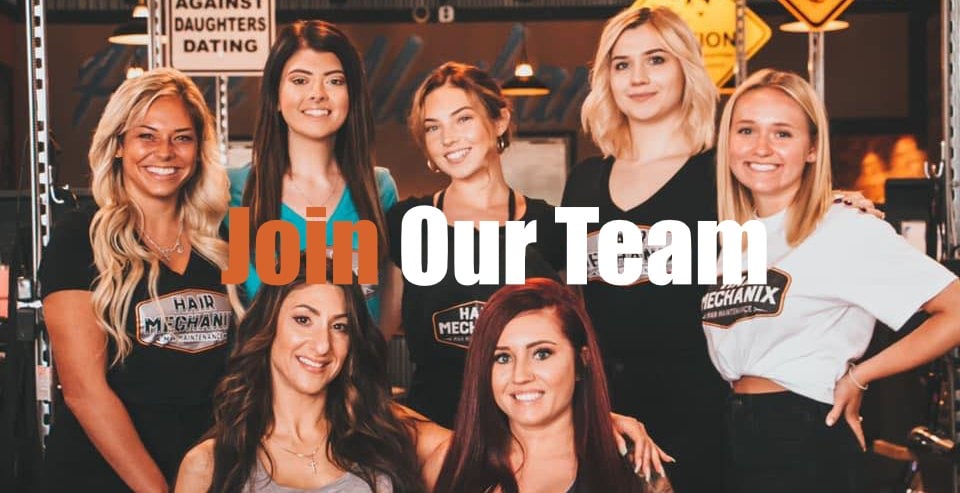 When making a decision, people often list the pros and cons. Summing up all the reasons why. Why you shouldn't go out to eat? Why you should exercise? This also applies when you are debating on accepting the job. When looking for a job, you need a list of great reasons why you should accept. After all, jobs can make someone feel satisfied or miserable. That's why Hair Mechanix is going to give you 5 great reasons for joining our team!
5 Great Reasons to Apply Today!
---
60% Commissions
That's right. Starting off our 5 Great Reasons list is Hair Mechanix's insane commission rates. While the average commission for salons is between 40-50%, Hair Mechanix recognizes how important their stylists are. Hairstylists are the foundation of our company. Our clients come into Hair Mechanix because of our talented employees. It's only fair that our commission rate reflects that. This is why Hair Mechanix's commission rate is so competitive. Our stylists walk away with far more than the average hairstylist per service.
---
One-on-One Training
According to Vernon Howard, you should go through life with the expectation that you will always learn something new. Regardless of talent, it will always lose out to the value of experience. For a hairstylist, education, and training will increase your skill set. Hair salons should always be striving to help their stylist reach their full potential. Yet, many companies will not take the time to cultivate that potential.
At Hair Mechanix, we believe in lifelong learning. This is why we promote continuing education, even after your orientation. Our veteran stylists provide one-on-one training to help newcomers become confident in their skills.
---
Closed All Holidays
Yeah, a lot of companies say that but Hair Mechanix means it. Most companies are closed on major holidays like the 4th of July and Christmas. However, at Hair Mechanix, our stores are closed all holidays. Instead of coming in on Mother's Day, you get to spend your time where it is needed. Hair Mechanix understands how important celebrations are, which is why we want you to enjoy them to the fullest!
---
Clientele Book
Hair Mechanix provides a great atmosphere that draws in male clients. This adds a lot of walk-in traffic, putting the front and center of your service. Any talented stylist will be able to generate a larger clientele book fast. Furthermore, there are a lot of advantages to having primarily male clients. There are fundamental differences between men's and women's hair. Mainly, men typically have short hair in comparison. Services tend to be simpler as well, considering there is less hair to manage. Though it takes the best of the best to make their clients shine.
---
A Great Team
Hair Mechanix has a top-tier staff because each one of our stylists works together. A store's atmosphere can make or break it. Not only with clients but with employees. That is why we strive to make a workplace where our staff can thrive. Hair Mechanix promotes a friendly work environment so everyone who enters can relax.
---
Hair Mechanix is one of the best men's hair salons to work for. Anyone looking for a workplace with an amazing atmosphere and friendly clientele should stop looking. Because you found it! Hair Mechanix has many opportunities to help expand your career. All of our locations in Michigan, Jacksonville Florida, and Washington Pennsylvania are waiting for talent just like you!
Great careers are available at Hair Mechanix. So…