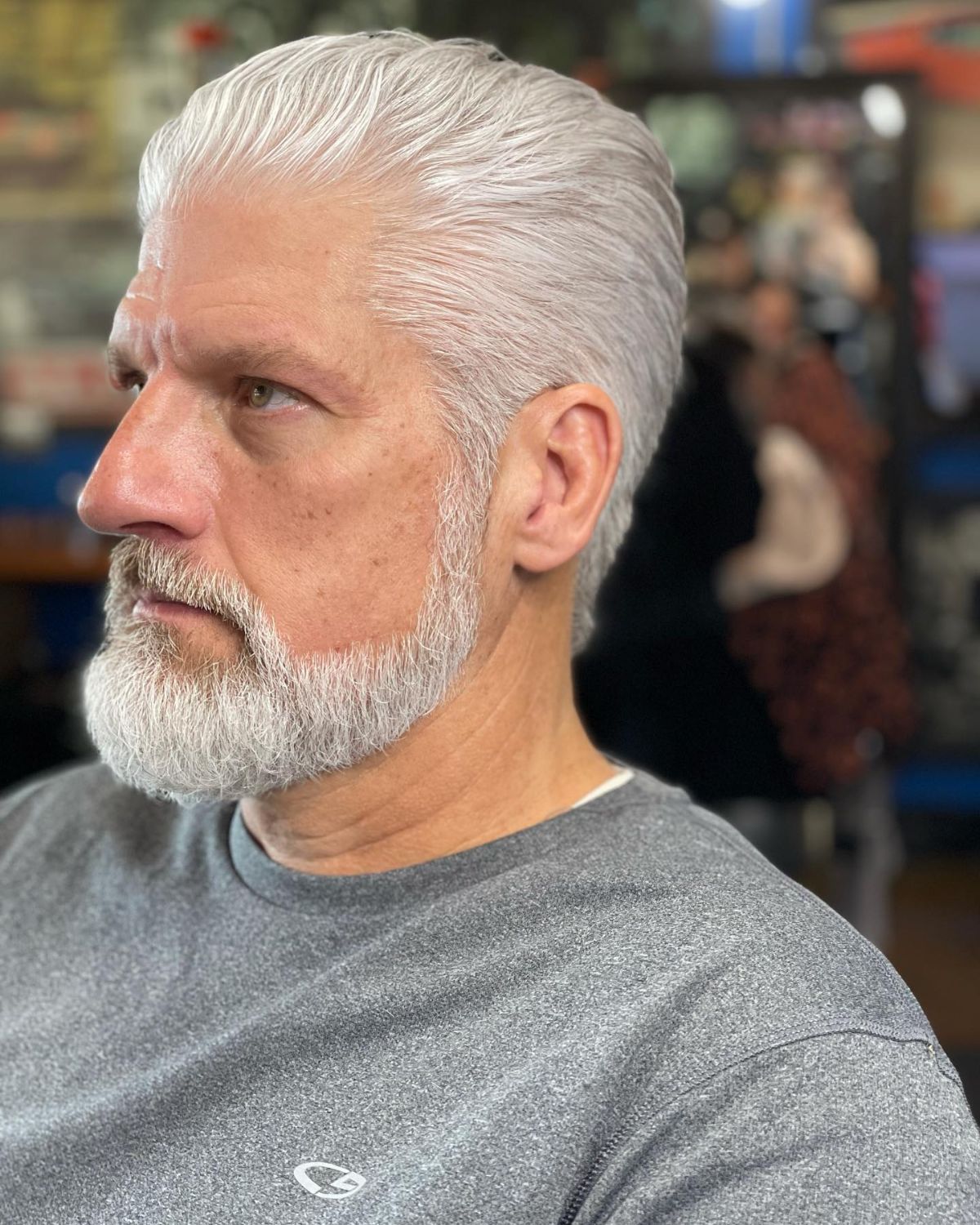 There are options for hairstyles for older men thinning hair can be the bane of your existence, especially when you're a man who is still in his prime. There are many different styling tips and tricks to dealing with this issue, which we here at Hair Mechanix would love to share with you! Here are some hairstyles for older men with thinning hair.
Hairstyles for Older Men: Wear it Loud, Wear it Proud
Just because your hair is thinning out or receding doesn't mean you have lost all hope. There are many men who not only have thinning hair but also are huge stars as well. Take famous actors like Jason Statham and Will Arnett for example, with thinning hair and receding hairlines they are still able to maintain their sex symbol status. Now the fact of the matter is a lot of men lose their hair or it starts thinning when they get older. We actually specialize in older men's haircuts. If you're not willing to compromise may we suggest a few styles that will help?
The Tight Buzzcut
This style works because the hair becomes barely noticeable and when cut short distracts from how many are up there. The only thing with this style is maintaining the length and making sure your scalp stays healthy (may we suggest a scalp treatment on your next visit?)
Stars like Jason Statham, Matt Lauer, and Bruce Willis have made the look work and made look tough and sexy. Simply ask your stylists to give you a close tight buzz.
Add Length on Top
Growing out the top of your head will help create the illusion of thicker hair, spike it up or slick it back to give your head a fuller look. We also recommend adding a little bit of length on the top and cutting the sides short to help with the look. Not only is this look-in right now, but it also works. Now, this might not work as haircuts for older men. We all want to avoid the comb-over! Talk with your local Hair Mechanix stylist to get the right type of haircut.
If you combine this with a beard, you can do varying styles to add your own personality. Some excellent combinations can be:
Short Beards with Shaved Sides
Bearded Semi-Buzz Cut
Beard with a Flat Top
Side Part
Parting your thinning hair off to the side will help create the illusion of fuller hair. The further the part the better the look. A side part can be flipped over to hide problem areas if the top is given enough length. Hair textures like curly and messy spikes can add some flavor to your hair. Furthermore, you can do layering with a side part that can do wonders for thinning hair! Plus, a comb-over is always an option!
Hairstyles for Older Men: If All Else Fails… Shave it All Off.
With celebrities like Samuel L. Jackson, Michael Jordan, and Dwayne 'The Rock' Johnson rocking the chrome dome, you'd join a crew of hot gentlemen. This look is a lower maintenance style that only requires you to shave your head every so often.
Bald Head with a Beard
If your hair is thinning on top you can distract or disguise it with a nice thing of facial hair. When you add a full beard to your look you are actually balancing out ladies love facial hair. You can try it with designer stubble, partial facial hair, or a full beard. Either way, it will complement the cue ball look.