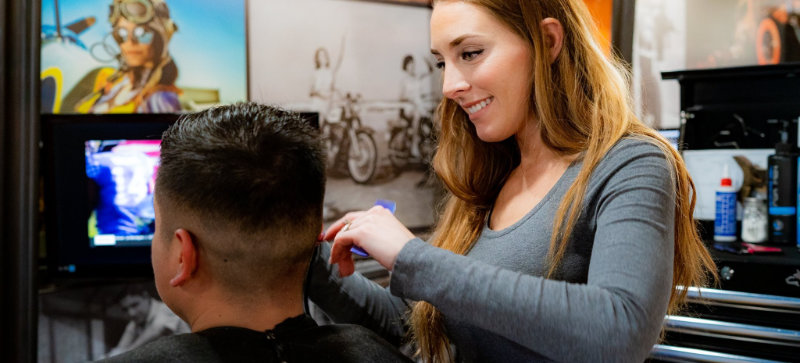 Shelby Township is a great place to live and work. If you are looking for a great place for a men's haircut, then visit Hair Mechanix of Shelby.  Conveniently located off of M53 and right off 23 Mile Road, you will not find a better barbershop in the area. In addition, Hair Mechanix provides a great atmosphere that everyone can enjoy while getting a hair cut.
Shelby Township Barbershop
When it comes to Shelby Charter Township, your best hair cutting option is Hair Mechanix. Also, we may be new to the town, but we provide expert stylist that can help you find the right look that best fits you. Thinning hair? No worries, we can recommend the perfect style that will benefit you the most.  Trying to work around a bald spot? Our stylist have seen it all and can provide you with a hair cut that can help you look your best.
In addition to great cuts, did you know you get free shampoo, neck shaved, and hot towel massage with every cut? That is right, we believe in providing the best offers for our customers to keep them coming back again and again. Also, you can walk right in or book an appointment ahead of time, either way, we are glad to see you.
When you walk into the new Shelby Township Hair Mechanix, we will great you and offer you a beverage to make you feel comfortable right away. Also, make sure to take in all the unique decor that Hair Mechanix has to offer. Looking for products to style your hair? No problem, at Hair Mechanix we offer a wide variety of products to help you maintain your good looks all year long. In addition, we carry all the major brands such as Billy Jealousy and American Crew.
Finally, visit our new Shelby location today, you will be glad you did!