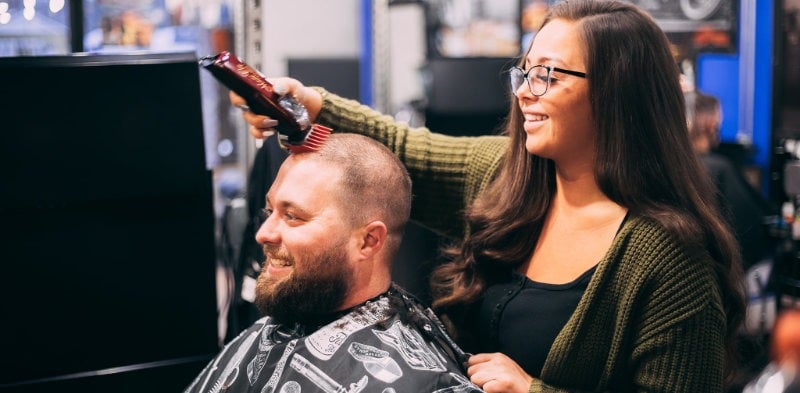 Whether you are just passing through the area of Brighton, Michigan, or if you live in the area and need a haircut, then you're in luck. You have a great place in Brighton to get a great men's haircut. The place you should set your GPS coordinates to is 42.506911, -83.75543. Or for those who are unsure of how to set these coordinates, you could just ask your phone for directions to Hair Mechanix, Brighton, Michigan.
Once you do that you will be on your way to Green Oak Village Place shopping center. Within this shopping center, you will find some great stores for shopping for some new clothing to go along with your fabulous and fresh haircut. You might decide to stop for some food. You know, someplace where you can show off a little and show your style after you have the best haircut you've ever had.
Great Haircuts In the Brighton Area
Trying a new barber is always a chance undertaking. Sure someone told you that they love their barber and that they have been going to the same place for years. Their hair may look pretty good, and it should after all of the time it has taken for the barber to get to know your friend and how he likes his haircut.
If you are like most guys who don't want to keep going back to the same place only to get the same mediocre cut, then you need to make a change now. You need to make your choice of haircutter one of our men's hairstylists. Wait…a hairstylist for men? Does a guy need a hairstylist versus a regular barber? Our answer to that is; only if you want a great-looking cut. A cut that you will be glad you got rather than the one you just got as a routine.
We have top-notch men's hairstylists who are waiting to please you with a great haircut. They can help you with several other services too. More than just a haircut, we offer services like hair coloring, scalp treatments, waxing services along facial services to help maintain your beard, goatee, and more. Ever had a professional razor shaved? If you have then you know how great you feel afterward. It makes you feel like you never want to shave again. We're here to help with that too. Our stylists also work on boys' haircuts, visiting Hair Mechanix a perfect father-son trip! Check out all of the great services available to make you look and feel your best. Our stylists are also up on all of the latest styles for men's hair and can help you decide the style that is right for you.
Great Haircuts Everyday
If you are only in the area for a short while, let's say a business meeting, and you need to look your best, then Hair Mechanix of Brighton, Michigan is where you need to head. After you visit with one of our stylists, you can feel more confident that you will look your best. When you know that you look good, you will feel good. That confidence may just help to make a difference in a successful meeting. You will hope that you need to return to this area again so you can be sure to get another great cut while you're in town.
Hair Mechanix of Brighton, Michigan is the place you want to head to when it's time to clean up. Hair Mechanix is also the place you should refer all of your friends when they ask where you go to always be looking so great. And if there is a man in your life that you would like to see looking great, then get them a gift certificate that they will always appreciate. Not just for the day, but forever once they know where to go when it's time to look good.