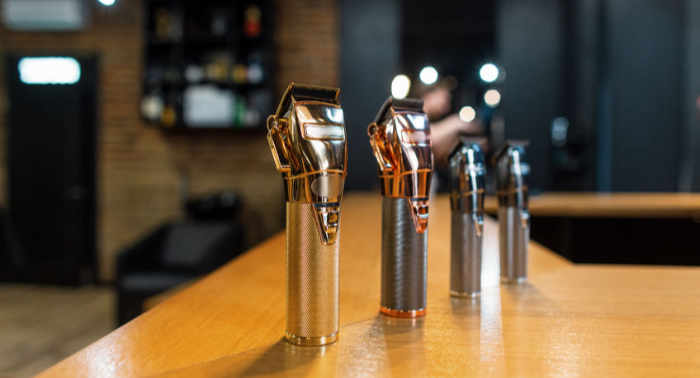 Do You ever wonder what the different guard sizes on hair clippers really mean? What is the length clippers cut with no guard? The expert stylists at Hair Mechanix took time to describe what each number means and the length you can expect from each. A traditional clipper set comes with 8 different guard sizes. Also, each size is imprinted on the actual guard so you know which is which. Different companies use different measurements but large companies such as Wahl, Oster, and Andis use 1/8 inch measurements.
What Do The Clippers Guard Numbers Mean?
So if the numbers represent 1/8 of an inch then the number one on a guard means 1/8 of an inch tall. Without a guard that represents zero and is less than 1/8 inch tall. If you use the zero option this is the buzz cut look. A skin-tight fade that is guaranteed to keep you cool all summer long.  Probably the most popular clipper guard number is number 2.  This short hairstyle leaves just enough hair to cover the scalp.
Generally, the clipper sizes are used in conjunction with a full haircut. Meaning, the sides and back are clipped or buzzed short while the top is trimmed by scissors. In addition, our experienced stylists can help you decide what look is best for you and suggest clipper sizes for your cut.
Clipper Guard Number Chart
1 Clipper Guard – one-eighth of an inch
2 Clipper Guard – one-quarter of an inch
3 Clipper Guard – three-eighths of an inch
4 Clipper Guard – one-half of an inch
5 Clipper Guard – five-eighths of an inch
6 Clipper Guard – three-quarters of an inch
7 Clipper Guard– seven-eighths of an inch
8 Clipper Guard – one inch
Visit Our New Locations
If you have not already, make sure to stop by one of our newest locations in Brighton, Troy and even in Jacksonville, Florida!  Of course, we always accept walk-ins at any time or you can schedule ahead for an appointment. Finally, at Hair Mechanix, we can give you the new look you need to look great this season!