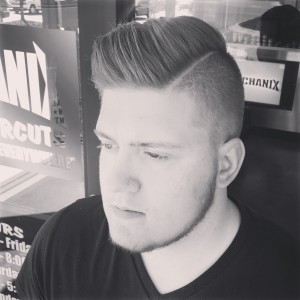 No matter what age a guy is, they always want to look cool. So when it comes to their hair they want the coolest haircut they can find. From Mohawks to the traditional tapered look, each guy has his style.  Cool haircuts are always available at Hair Mechanix.
At Hair Mechanix, our job is to help you look your best for any occasion. Furthermore, our talented stylists always stays up-to-date on the latest trends in men's hair fashions. So if you are looking for a new look but not quite what to go for, ask your stylist. She can help you decide what would look best for you.
Men's Cool Haircuts That Are Available
When trying to decide your style, here are some examples of haircuts that are available at Hair Mechanix. Some examples are:
The short hair with natural movement – a little long on top with short sides
 Low fade with medium-length waves
Shaved lines and textured spikes
Dry slick back with undercut
And Many More!
This is just a short sampling of the variety of cool haircuts for men available at Hair Mechanix. Instead of typing "men's haircuts near me" into your search engine, you should top it with your local Hair Mechanix.  At every Hair Mechanix location, we offer a friendly atmosphere and a great place for you to hang out. With great music, multiple TVs, and even a free beer it is what most guys will enjoy! In addition, Hair Mechanix has great locations in Livonia, Westland, Waterford, Southgate, and Auburn Hills and will expand to new locations soon.
Need balding tips? We have hairstyles for balding men right here.
Not only do we offer great hairstyles but we also have a wide variety of other services to choose from. Need to get rid of some of that grey? At Hair Mechanix, we offer hair coloring for any age. Along with coloring, we also offer waxing, shaving, and scalp treatments. Visit your local Hair Mechanix today to look your best, you will not regret it!