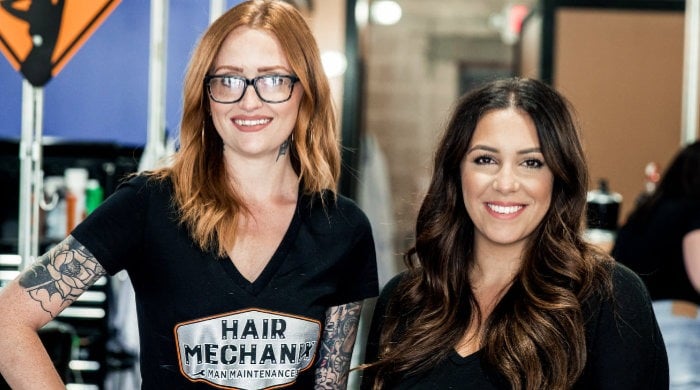 When it comes to finding the perfect place to get the best men's haircuts, men across the United States are turning to Hair Mechanix. But, what sets us apart from other men's hair-cutting shops, or barber shops? Why is it that men are choosing us over other local men's hair salons?
Best Men's Haircut Services!
At each of our men's hair care locations, we make sure we incorporate everything a man likes. Well, at least as much as we can. From beautiful women stylists to the mechanics of your garage, even a fridge full of cold beer to share with you! On top of an exciting atmosphere, we provide a variety of hair care salon services for men of all ages. As a full-service male hair salon we offer the following services:
Precision Haircuts
Coloring Services
Men and Women Braid Services
Face Maintenance
Waxing Services
Facials
Scalp Treatments
Detail Work
We provide the cutting end of "manly maintenance!" Every precision haircut includes shampooing, straight razor neckline cleanup, and neck massage with a hot towel! All of our services are done by Hair Mechanix's professional and all-star staff, who are up-to-date with trendy cuts and styles.
All-Star Stylists
At Hair Mechanix, we understand that we are nothing without our all-star team of stylists. That is why our company hires and invests in our talented stylists. All of our stylists get one-on-one training to hone their styling skills! After all, behind every man is a better woman; especially in our barber chairs.
Hair Mechanix treats all of our team like superstars so they can focus on giving you the best service possible. There are many great reasons why stylists join our team and we are proud to be a hub for the most talented stylists around!
Offers and Specials
We offer great specials for kids, seniors, or military personnel, as well as other great daily deals. Some of our daily specials include:
-SONDAY Special-
Every Sunday, fathers and sons can receive 1/2 off on a child's cut.
-BUDDY Special-
Bring a friend who has never been here, and your cut is FREE!
-SENIOR Special- 
Monday – Thursday from 10 AM- 1 PM Seniors get $3.00 off
-ACTIVE MILITARY/VETERANS Special- 
Receive $3.00 off
Stop by your local Hair Mechanix today to take advantage of these great offers!
Best Men's Haircuts are Right in Your Backyard!
With multiple Hair Mechanix locations around Metro Detroit, Florida, and Washington PA, men can get the excellent service that they deserve! Hair Mechanix has everything that our clients are looking for; top-tier services, professional staff, and an amazing atmosphere! While you can go to any barber shop, our locations are guaranteed to be the best barbershop you have been to!
---
Keep up with the latest offers and news from Hair Mechanix through our Facebook page!