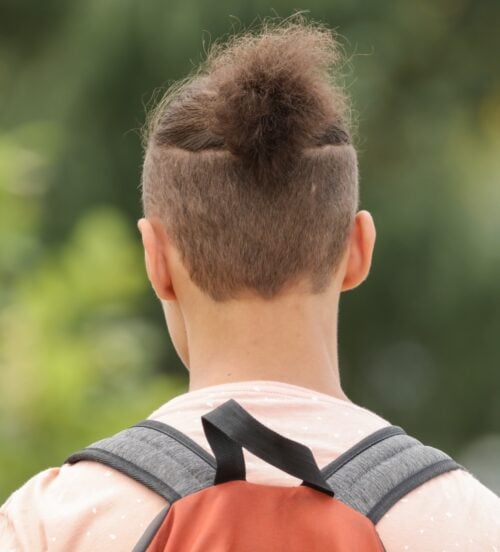 Do you need some ideas for back-to-school haircuts? The summer season is coming to an end and the new school year is starting up again. After a long summer break full of swimming, boating, or maybe just hanging out and taking it easy, you are ready to get back at it! Well, maybe not, but time is short and you'll want to look your best for the new school year. That is why one of the first things on your list in addition to getting new threads, is getting a fresh haircut.  At Hair Mechanix, our stylists know the latest hairstyles and trends to help you leave a great impression! So, what should you get for your back-to-school haircut?
Haircuts for College Students
College students who return to campus should be eager to show off their new look. College is more than just studying and homework. It's about self-discovery! That is why you should be eager to try something new.
To find a look that makes you stand out in the mix. Here are a few trendy hairstyles that you might try this semester:
French Crop Top
Quiff
Slicked-Back Haircut
Fade Haircut
Comb Over
These are just a few suggestions! There are plenty of other hairstyles that can be an appealing option for your back-to-school haircut. Be sure to ask your professional Hair Mechanix stylist, they have their ear to the ground and will help you make a choice for the perfect look.
Boy Haircuts for School
You don't need to be a college student to justify a new haircut. Teenagers in high school and even kids in middle school, probably care more about their appearance on the first day of school. A lot of the trendy haircuts above would look just as great. However, there is another feature that can make a kid feel special!  Add a custom style with some hair detail! Being an individual is important and looking cool helps a kid navigate the social environment in schools. Little makes them feel more special than getting a hair design to express themselves!
Back-To-School Haircuts at Hair Mechanix
If you need to get your boy or yourself a brand new back-to-school haircut, then you should stop by your local Hair Mechanix! All of our stylists are capable professionals that will help take care of your hair maintenance needs. Do you have a kid that has trouble sitting still? With TVs at each station,  they can be entertained or distracted while our stylist works their magic! Make an appointment for a back-to-school haircut today!
Posted In: Blog, Boys Haircuts, Mens Haircuts