If you've never thought about it, you're doing your awesome haircut a disservice. A neckline can make or break a hairstyle. Also, we know there are a lot of things you have to consider when you sit down in one of our chairs at Hair Mechanix, but it's ok! We can help you make a decision about your neck and what will work best with the cut you want. There are three options when you get yours done, so don't worry!
4 Different Types of Neckline
Rounded – This neckline is exactly what it sounds like: Rounded on the corners to create a natural rounded hair line. This style is good for men with thin or small necks who want to give the appearance of a thicker neck.
Blocked (Squared)– This hair line is a straight line across the neck. This type of hairline compliments people who have wider necks who want to slim them down. The biggest downside with this style is that it grows in messy and will look unkempt if you don't visit us at Hair Mechanix on a regular basis.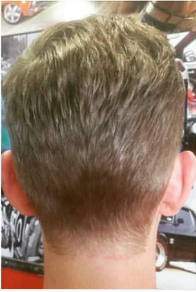 Taper– or a "natural fade" this neckline follows the natural hairline and "fades" into the neck. The reason this neckline is the most idea for guys who don't visit us on a regular basis (we forgive you). The taper has a more natural look when the hair grows back in so your hair won't look sloppy. This is also great for guys who have an irregular neckline or need to create a neckline.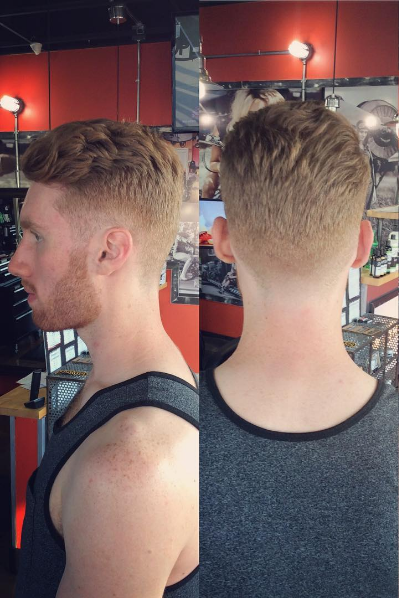 High Fades – When you have a fade your line of your neck shape is already defined. The hair will be short until it's high on the neck.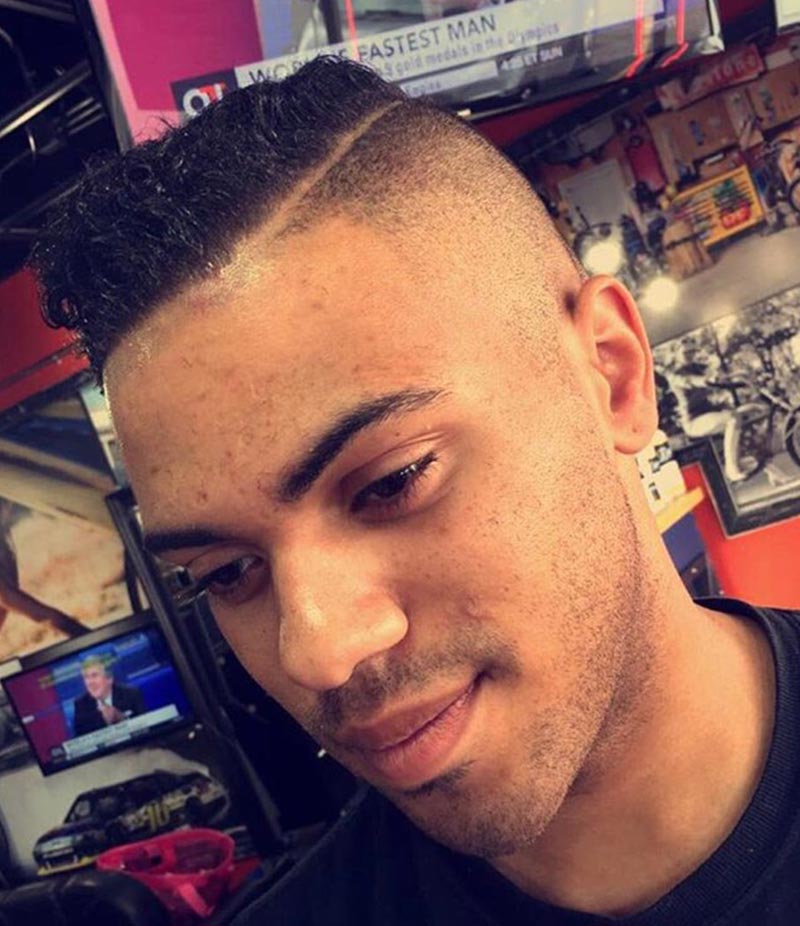 If you've never tried to mix up your line with your cut, talk with us about it! You might be shocked at how well a new cut and trim can change your hair. Book your appointment today!
Clipper guards are an easy way to communicate with your Hair Mechanix stylist what kind of haircut you want. Being able to walk into the shop and say "I'd like a 8 on top and a 4 on the sides" makes your cut come out perfectly. Not everyone who sits in one of our chairs understands what each clipper guard number means, which is why we're here with this month's "Hair Tips From Hair Mechanix".
Knowing your clipper guard numbers are the best way to get the perfect cut. Even though some brands may vary very slightly in length, they are mostly consistent across the board. We'll explain a few basics about clipper guards then go into the details about what each size means.
The Basics Of Clippers and Clipper Guard Numbers:
Guards go 0-8 (sometimes up to 10) depending on the brand. The lower the guard number the shorter the hair will be,
a lot of the lower numbers are used in fades, so if you request a fade you'll have extra brownie points for knowing what number you'd like to fade from and into. Different brands will vary the length of the number (or how the number is displayed) so make sure to talk to your stylist beforehand. Know the length that you are aiming for, and communicate that to your stylist.
What each clipper guard numbers mean:
0 = No blade
As close to the head as you're going to get. Without a clipper guard, you will get a traditional "Buzz Cut". If you want a chrome dome… your Hair Mechanix stylist will bust out the razor
1 = ⅛ of an inch
This blade size will create a buzz cut look when used all over. Please note that when using a 1 your scalp will show, so if you are balding or have thinning hair you may want to go higher if used on top.
2 = ¼ of an inch
Still in the buzz cut category, leaving a ¼" of hair will give your head a fuller look and won't expose your scalp as much as a 1 or 0. Great for fades and all around
3 = ⅜ of an Inch
This is the last guard of the short/buzz cut look. Not only will your scalp not be exposed but your hair will still be low maintenance
4 = ½ inch
This guard is closer to a crew cut than a buzz cut. This length is great for people with thick or thinning hair
5 = ⅝ th of an inch
Frequently used in a taper and considered closer to a crew cut or classic cut
6 = ¾ of an inch
Another length used to taper hair, this guard will give you enough hair to style, but will also
7 =⅞ of an inch
Great for men who want a crew cut look and have thicker or more hair.
8 = 1 inch
Best used to create length on top. This is the longest clipper guard
Before jumping into the world of clippers and clipper guards, make sure to try them out first at your local Hair Mechanix. Make sure to communicate with your stylist about what look you're going for and bring pictures if you don't know what to do.
We can't emphasize this enough: If you don't know what you want to tell your stylist. Also, we can always take more hair off. Stop into your local Hair Mechanix today!
Rio Olympic Hairstyles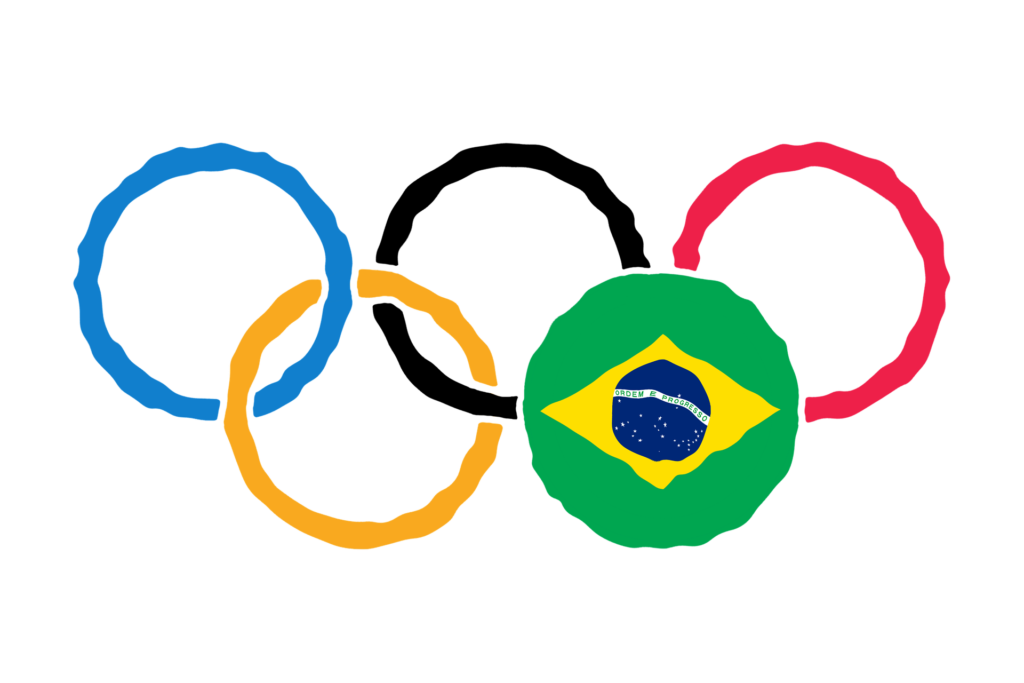 The Olympics are in full swing out in Rio and the U.S. is taking it by storm! We've been watching the games and cheering for some of our favorite athletes and events. We've also been checking out the hot hair styles coming from Europe and Latin America's athletes as well as the U.S. Athletes and other countries as well. We want to pass on the awesome styles that you can get, read more!
Business Casual/ Regular Haircut 
(Photo Credit: m_phelps00)
First up is the ever popular Michael Phelps look. He has that "Boy next door" business professional look that everyone is loving. Long on top but shorter on the sides helps keep him looking ready to win gold for the U.S.A. in Rio in style.
Taper Cut into a Faux Mohawk
(Photo Credit: serge_gnabry_fans)
We've seen this style on many of the soccer teams like the Brazil and German team. You can see that the look entails a high fade (or straight scalp) that leaves a strip of short hair on the top of the head. Some guys such as Serge Gnabryon spice it up with a little frosting on the top (Pst We also offer coloring services for men as well). This look is going to take the U.S.A by storm once it hits.
Man Bun, Undercut Bun, Top Knots
Word on the street also shows that many of the Athletes at Rio are sporting the ever popular "Man Bun" with a little twist. Rather than saving all the hair athletes have been  sporting the undercut bun aka the "Top Knot". Some of the athletes have said that it's convenience that drove them to sport the man bun, athletes like Australian basketball player Aron Baynes and British gymnast Louis Smith. If you're hair is long enough.. Why not take the plunge!
If you want to try out any of these gold winning hair cuts, come into Hair Mechanix. Our ladies will help get you looking and feeling like a champion. Call your local Hair Mechanix today  or visit one of these great locations!