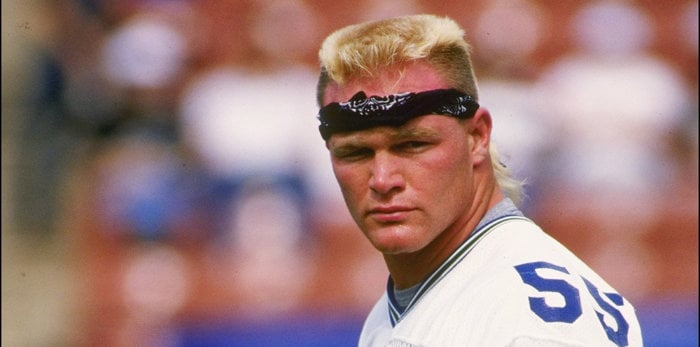 This year the NFL is celebrating its 100th year. Throughout those 100 years, there have been some memorable football hairstyles.  Today, we here at Hair Mechanix are going to take a look at some of those unique looks that maybe just football players can pull off.
Memorable Football Hairstyles: Brian Bosworth
Drafted out of Oaklahoma to the Seattle Seahawks in 1987, Brian Bosworth played linebacker and was a larger than life character. But his potential attitude and crazy hairstyle made him a popular icon in the 80s.  Based on his looks alone, it scored him a few movie roles one of the famous ones is Stone Cold.  Also, in the 80s a blonde mohawk was a unique look and his style would vary from a mohawk to a mullet throughout the years.
Finally, today Bosworth can be seen at Oaklahoma games and on Dr. Pepper commercials all over the country.
Clay Mathews III
If the long-haired Viking look is more your thing, then Clay Mathews has the hairstyle for you. Drafted by the Green Bay Packer sin 2009, the outside linebacker has set a hair trend a lot of defensive linemen have today. In addition, Clay has brothers and a father that has played in the NFL. Drafted from USC he looks more like a Nordic Viking than a California kid.
Do you like free services?
Troy Polamalu
Also from USC (I guess they really like long hair there), Troy Polamalu played safety for the Pittsburgh Steelers for 11 years. Troy has two Superbowl rings, 8 Pro Bowls, and numerous defensive awards throughout his career. But the one thing everyone always remembers is his long curly black hair hanging out the back of his helmet.
Also, his hair became so famous it lead to him getting a contract with Head and Shoulders. Polamalu is retired now, but in his day he was considered one of the best safeties to ever play the game.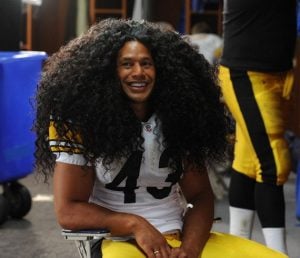 Hairstyles For All Guys
Of course, this is just a look at some of the crazy hairstyles that have appeared in the NFL throughout the years. If you are looking for a new look and a great time while getting your haircut then visit Hair Mechanix. We have multiple locations throughout the state and you can walk in anytime!
Guest post from Pro Stock Hockey.
Click arrows in the bottom right corner to expand full screen
Infographic by Pro Stock Hockey, an online
hockey store
carrying authentic pro stock hockey equipment
Tips From The Professionals!
We here at Hair Mechanix want you to be in on the loop on the coolest and newest hairstyles and products that help you get them. We found a few of the hottest styles out there right now and how you can get them.
Styling Tips for The "Classic" Slicked Back Look
For this Hairstyle we recommend using Redken's Maneuver Wax. This product gives you a pliable hold with a natural finish but still leaves you with a moldable texture.
You would take a small amount of product (about the size of a nickel) and evenly spread in your hands.
Work the product into your hair with your hands. Focusing on the strands on the outside and sides of your head for the best results. For the finishing look take a comb and either focus on your part, or slick it straight back for a more classic "Mad Men" look
TIP: For stubborn hair that wont get the body you need it to, try using a round brush and hair dryer to give you more volume. Simply blow dry your hair in the opposite direction it grows then apply product.
Styling Tips for Tousled "Fresh off the Beach" Look – 
When your hair is wet, take and use a blow dryer and a round brush to dry and volumes your hair. When your hair is dry, take a small amount of Redken Firm Grasp Texturizing Hair Clay and run it through your hair to finish this "Fresh off the Beach" look.
Tip: When getting product from a container try inserting your finger and flicking out to remove the product as opposed to digging in. This will keep the prod it out of your fingernails.
Clean Up Your Beard Or Mustache 
If you want your beard to have a clean put together look or style you can always use a little bit of Redken Work Hard Molding Hair Paste.  You can use this product to create a clean strong hold for your beard's style.
Some times all you really need though is a good cut, which we can do! Call your local Hair Mechanix today and book your appointment or visit one of our great locations!
As a black man finding a hairstyle that fits your hair type can be a challenge. How thick or how coarse your hair is can play a large role in what type of hairstyle will work for you. Although most black men hairstyles work well on any hair type, there are some cuts that work best on certain types. If you are looking for the best place for a hair cut in Livonia, Brighton, or Shelby Twonship, visit Hair Mechanix.
Hairstyles for black men with thicker coarse hair:

Faded Twists
Tapered Fro
Parted Box Fade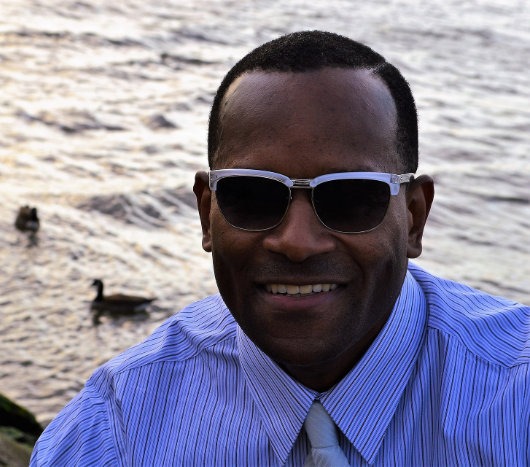 Hairstyles for black men with curly hair:
Low Tapered Fro Out
Faded Mohawk
Faux Hawk
Hairstyles for black me with medium to thick hair
Hairstyles for black men with any hair type
Long Tight Taper
The Buzz
The Small Fro
Clean and Short
The Grown Out Buzz
Twists
Natural Curls
Waves
Polished Fade
Fro Hawk
Clean Shaved
Long Curls
Regardless of the type of hairstyle you choose, one of the most important aspects of your cut is your hairline. Our professional stylists will ensure that you not only love your style but that your hairline is crispy! Whether you want to incorporate designs into your fade, or just want a clean hairline to transpire into your beard, we have you covered so your hairline doesn't have to be! In addition to a great haircut, you can get a great shave or massage as well at Hair Mechanix.
Finally, contact us today to speak to our professional stylists today about which hairstyle is best for you! Make sure to visit our newest locations in Brighton and Shelby Township.  Book your appointment today!