Boo! Time to get ready for Halloween! Halloween is one of the best times of the year. A time of year where people can go all out with amazing costumes and makeup. You can either dress up like a charming prince or a horrifying serial killer like Micheal Myer. However, getting your haircut in October can be tricky. You want your hair to work with your Halloween costume, but you don't want to look like a slob the rest of the time. Around this time of year, you've probably let your hair get a little unruly or your recent cut has grown out. Hair Mechanix can understand this conflict. This is why your Halloween haircut is with us.
Halloween is around the corner, we all like to dress up, well.. most of us! Guys seem to have a harder time, they can't just put on a mini skirt, heavy makeup, and walk out the door. Some guys like to go all out with hair and makeup for Halloween and some guys use whatever their day job uniforms are; a cop, a doctor,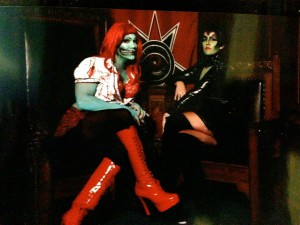 mechanic, we've seen it all! And no judgment here! Guys almost have it easier! You can be the guy who goes along with his girlfriend with the couple costumes, that's a plus! Or the skateboarder, probably the easiest costume along with a costume wearing a mask! Or go all out as seen in this picture! Do you know which one is the guy?? Hint… hangs to the left…
Hair Mechanix Girls can do guys Halloween Hair and Makeup, Call your local Hair Mechanix to get details and book an appointment.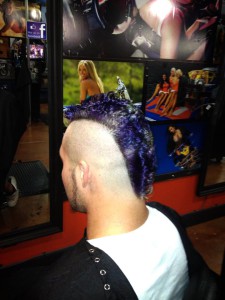 Guys come to Hair Mechanix to be whoever they want to be whenever they want! We will be open all week long dressed in our costumes and here to help you with yours! Check out this guys Halloween hair cut, color, and style! Have an idea? Bring it in, and we will make it happen the best we can!
From huge spiked mohawks to a Ghostbusters look, we can help with your Halloween hair. Want to shave your head and go out as Kingpin from Daredevil? No problem we can help. No matter what type of crazy haircut you are thinking of we can help.
Guys Halloween hair cuts and styles are doable, call your local Hair Mechanix and talk to a stylist about what you are looking for, and to book an appointment. Finally, make sure to visit our newest location in Florida, Hair Mechanix Mandarin!  Hair Mechanix has two great locations in Florida.