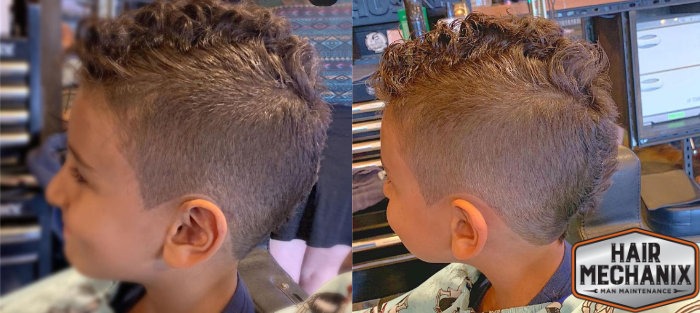 Have you heard the news? Hair Mechanix is excited to announce our newest location in Mandarin Jacksonville, Florida! The Mandarin area is a beautiful area and we are happy to be a part of this thriving community.  In addition to our location on Beach Blvd, the Mandarin location is located at 11700 San Jose Blvd. Unit 6. Of course, our newest location will be offering all the same great services you have grown to expect from Hair Mechanix!
Mandarin Jacksonville Men's Haircuts
At Hair Mechanix, you can expect talented stylists and a friendly atmosphere that will have you coming back for years. Also, we offer a variety of services to choose from such as shaves, hair cuts, waxing, massages, and much more! In addition, our staff can recommend the best new products to keep you looking great until your next haircut.  One of the hot new products we are offering is Suavecito.
Suavecito Pomade is some of the best available today. It will help maintain your look all day long.  Hair Mechanix is the best place to bring all your back to school kids.  Sure a lot of kids are learning online these days, but do not have them looking shaggy in their Zoom classes! Bring your kids to Hair Mechanix today! From Fohawks to classic cuts, we can keep your young students looking their best.
Add Ons And More
You can book online or walk-in either way we are glad you are here. When booking online, make sure to select some add ons to make your visit even better than you thought. A haircut is great, but an additional beard shave or other services can have really looking your best. If you are in the Jacksonville area make sure to stop the Mandarins newest haircut location today, to look your best all year long.
Winner Winner Chicken Dinner!
We here at Hair Mechanix are excited to announce the winner of our Hot Tub giveaway contest! We paired up with Sunny's Pools and More (formally known as Viscount Pools West), 101 WRIF and 94.7 WCSX to give away a free hot tub, and we've got one lucky winner!
You might be asking yourself…. Why?
We here at Hair Mechanix don't like to focus on the why so much as the WHY THE HELL NOT!?
A special Congratulations to our contest winner Richard Jaynes of Inkster Michigan! We can't wait to see the look on your face when you get your prize! Also, we can tell you that he was very excited when he got the call (we assume it made his day). We want to thank everyone who entered and participated in this giveaway! You can Trust this won't be the last contest we do, so stay tuned!
Speaking of Staying Tuned!
Have you heard that we are opening 4 new locations? We are very excited to announce that by the end of the summer we will have 3 new locations in Michigan and 1 new location in a new state altogether!
Our new locations in Michigan are going to be in Troy, Michigan, Warren, Michigan and Monroe Michigan! We will announce their opening as they happen so stay tuned!
We are also extremely excited to be opening our first out of state shop in Jacksonville Florida! Business has been good, so we decided to take the Hair Mechanix experience on the road! We can't wait to see how this shop evolves and are excited to be a new fixture in the Jacksonville community!
Want to stay up to date with everything that's going on here at Hair Mechanix? Sign up for our mailing list or follow us on Facebook!