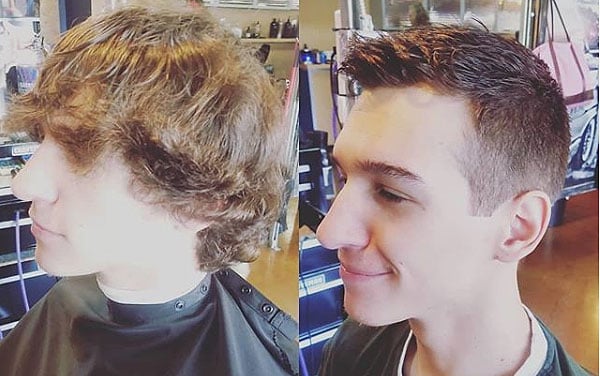 With summer quickly approaching that means prom and graduation is arriving quickly as well. All those pictures that you are going to have to take, and you want to look your best. Reserving limos and tuxedos are always on the list, but one you should not forget is to get that new haircut. When it comes to men's haircuts in Metro Detroit, your first choice is Hair Mechanix!
Graduation, Prom, and Parties
No matter if you are graduating in Westland, Brighton, Livonia, Waterford, Southgate, Auburn Hills, Monroe, Warren, or Troy we have you covered.  This time of year can be hectic to graduating seniors with so many things to do. The good news is at Hair Mechanix you can walk right in without an appointment. Also, you can make an appointment if you are tight on time. Once you get here, sit back relax and enjoy your time at Hair Mechanics.
Our experienced barbers and stylists can give you the new look that best fits you. Along with a fresh new haircut, there is a variety of other grooming services you can choose from as well. Has your beard got a little out of control? You can get a beard or goatee trim or have it completely shaved with a straight razor. Do you have a little extra hair around ears, nose, or eyebrows? We can provide you with waxing services to clear out all those unwanted hairs.
Scalp Treatments and Coloring
Are you stressed from all the pressure of graduating? Come in and enjoy a relaxing scalp massage for 5 or 10 minutes. It will give you the relaxation you so deserve. In addition, if you are tired of the same old color of your hair, we can give you the new color you always wanted. Want to be blonde, redhead, or how about black hair? We provide coloring services for that look you want to remember.
This is the first major step before seniors head out to college or join the workforce so make sure to get your haircut today.  Finally, visit us today so you can look your best for graduation!
How many times have you gone to your stylist or barber and walked away less than happy? Chances are like most guys you either didn't know what you wanted or didn't know what to say to your stylist. Well here at Hair Mechanix want to help you get the perfect haircut for your head.
>We've talked about the hottest hair trends,  beards and face shape, beard styles, and tips to work with thinning hair but still, some guys just don't know how to get the cut or style they want. We want to make sure you get exactly what you envisioned when you come to us. Which is why we wanted to give some tips and tricks to making sure your stylist gives you the cut you want.
What to Say to Your Stylist When Getting a Haircut
Sexy Trends of 2016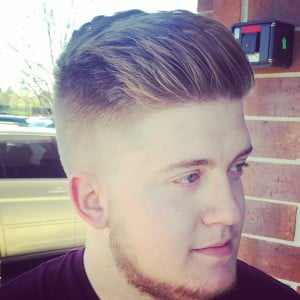 Why not start 2016 off right with a new hot look? 2015 saw an explosion of new hair trends in the men's hair industry, some of which are predicting to stick around in 2016. So if you've wanted to try a new edgier look come on into Hair Mechanix. We can clean you up and get you ready to greet 2016 looking good.
The first part of 2016 is going to be focused on the fade and the pompadour. You'll also see undercuts, hard parts, bald fade, and the carved undercut that we loved so much! 

First things first, the fade. This trend isn't going to go anywhere any time soon, so if you've been hoping to try it, this is the year. You have several options when it comes to your fade. Medium fades, fades higher up on the head, and bald fades (more on those later).
Also top on the list: The Pompadour. Pompadours are going to carry over strong into 2016. Its a nod to classic cuts from yesteryear, with a modern messy twist. The length of the pompadour will vary, so you can make it your own. Add some texture and you'll be ahead of the curve. 
Another Take:
This cut here is the blueprint for every style 2016 is going to bring. Pompadour on top, with varying fades on the sides with a beard that is well kept but still sexy.
2016 is set to be the year that beards cleaned themselves up. If your beard has been out of control for too long, then try out bear trimming and shaping services. We will clean up your scruff and make you look like a clean professional look.
---
The Hard Part 

Another hair trend that isn't going away from 2016 is the hard part. Define your part more with this bold look. We'll help define your part with this look. It can help clean up your look and set you apart from the next guy.

Varying Looks and Combinations:
Bald FadeMedium Pompadour
Low Skin Fade Long Pompadour
Short sides with Longer Textured hair on top
High Fade Pompadour
Bald Fade, Hard Part, Disconnected Designer beard
Beard Services From Hair Mechanix
Classic Crew Cut with a little twist, a little length on top with with a skin fade.
So now you know some of the hottest trends coming in 2016 and we can help you get these looks. Call to book an appointment today or walk in to any of our great locations!