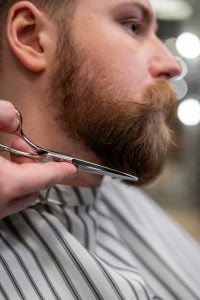 Looking for a barbershop near you to get a good beard trim? Well, the best beard trim can always be found While you can go to any salon or barbershop, nothing can compare to the professional services at our salons. But what makes Hair Mechanix the best place to get a beard trim in Michigan, Florida, and Pennsylvania?
Different Types of Beards
There are many variations and types of beards. Depending on the person, a beard can be based on preference or facial structure. One of the classic beards that cause kids to scream 'prickly' is the stubble beard. It can be a charming and class beard type for men of all ages. You also have the full beard, which is the most iconic type of beard. Mustache and all, a full beard is what most people think about.
After that, you can get fancy with your beards. The Goatee, Ducktail, Anchor, and the Van Dyke are just a few of the many options that you have when choosing your beard.  However, caring for your beard is important. That includes getting a beard trim from time to time.
Best Beard for Your Face Shape
Your face shape is always a factor when it comes to your haircut. Without a doubt, there is an optimal haircut for your face. This also applies to beards. The structure of your face can tell you what type of beard would suit you best! So, from all the types of beards, which style fits your face?
Oval-Shape Face
Most versatile shape in facial shape. The majority of beards will look amazing on you. Though, you need to make sure you show off your cheekbones.
Round-Shape Face
For this face type, the goal is to have a beard that makes your face longer. That means you should be going for beards with shorter sides and length on the bottom. You could pull off a Full Beard, Ducktail, and Extended Goatee.
Long-Shape Face
A beard that is short and close to the face is the ideal beard for you. You should be looking at a stubble-like beard to bring out the full potential of your facial hair.
Square-Shape Face
A square-shaped face needs 2 things in facial hair. Facial hair that compliments your jawline and cheekbones. Just like a long-shape face, you need something short and close. You have some versatility with a square shape. You could with designer stubble or a goatee that will catch everyone's eye.
The Importance of Beard Trimming
Although the point of a beard is to grow it out, trimming is an important step of progress. It might seem simple to grow a beard but it is a tedious journey. For a successful and luscious beard, you need to be able to increase your beard length. Around 2-3 months into your beard growing journey, you will need to trim it. It seems counterproductive. Yet, trimming will allow your beard to be healthy-looking as it grows.
However, it's not taking centimeters or inches off your beard. Just a few cuts with grooming scissors to let your beard grow evenly. Taking off split ends can increase the growing process. There are a lot of techniques that can help prevent split ends, however, trimming is the best to increase the growing process. Trimming is important, but it needs to be done properly. You need the best beard trim for the best results. And Hair Mechanix can help you!
Trimming Tips
Sometimes, you might have to do some beard maintenance at home. If it comes to that, you need to know the basics of trimming and caring for your beard. Like your hair, you need to wash and comb out your beard before you start the trimming process. After that, it is time to prepare for the trim. At this point, you will need to gather your equipment. This includes a towel, comb, scissors, clippers, products, and your mirror.
After you got your supplies it is time to trim. You will use your clippers and scissors to sculpt your beard. This part is challenging. Unless you are skilled or a barber, you might end up cutting off more than you want. In addition, you have to clean up the aftermath. There is no way your roommates or girlfriend want to see your beard hair. For the best beard trim, you should stop by your local Hair Mechanix.
Best Beard Trim at Hair Mechanix
At Hair Mechanix, our hairstylist provides the best, high-quality hair maintenance services around. This includes face maintenance! If you looking for fixing the basics, neck shave, beard trim, or any other beard needs, Hair Mechanix has you covered! You can enjoy a variety of named services like The Clean Up, Beardtopia, and so much more! Without a doubt, you will leave with the best beard trim of your life.
However, don't forget about Hair Mechanix's other services! Hair Mechanix has everything you need to look your best! You can get a fresh new haircut and color to change your look. You also can clean your eyebrows, ears, and nose with a waxing treatment. After that, you can enjoy a facial or scalp massage to feel pampered. If you live downriver, you should check out Southgate! If you live west, then stop by Howell, the newest Hair Mechanix location.  So, make an appointment today at your local Hair Mechanix. To get excellent service from a haircut place near you!
We love Beard Trimming at Hair Mechanix
The beard trend is still here in the D and everywhere we go! There are a few different ways to get your beard trimmed at our Hair Mechanix locations, depending on which type of beard you have. We love this Man's Guide to Beards by: Real Men Real Style. We see all of these different types of beards come through our local men's hair salons. So if you don't want to trim it yourself, let us do the beard trimming for you!
Beard Trimming Tips
Here are some tips when it comes to your at home Beard trimming maintenance and routine;
Wash – Just like the hair

on your head, it is better when it's clean and without the oils when doing a trim. Try not to use a drying shampoo and use a clean towel to dry your beard.

Comb it out – Depending on your beard type it may be easier to get an accurate trim by combing your beard first.
Get Prepared to Trim that Beard – Be prepared with your; towel (we know your girlfriend can't stand those beard trimmings all over!), comb, scissors, clippers, mirror and styling products, if you have them. Check out our Grooming Products for Beards!
Trim your Beard using Clippers – Make sure to use the appropriate size guard for the amount you would like to trim off. If your not sure, use the bigger guard first to make sure you do not trim too much off for your own liking.
Trim your Beard using Scissors – You should probably let us do this, it takes skill in shaping and thinning the beard with scissors. But if you insist, make sure you are using a sharp pair of scissors made to cut hair like shears for barbers. Use a comb to guide you.
Clean up your mess! – Remember that towel, thankful now aren't you? You can also use newspaper on the floor. Be careful washing your clippings down the sink. It is best to throw them away so they don't clog your sink.
Get It Done Right!
We use clippers and scissors at our shops depending on your beard style and what your preference is.  So, if these steps don't seem like something you want to do, or you try it and it doesn't turn out how you want, as always we are here for your male maintenance! Find your local Hair Mechanix Men's Hair Salon and let us trim that beard for you!
Check out some beard styles trending this year.