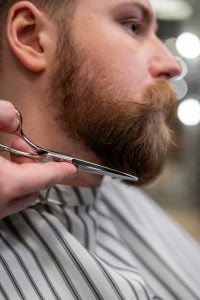 Looking for a barbershop near you to get a good beard trim? Well, the best beard trim can always be found While you can go to any salon or barbershop, nothing can compare to the professional services at our salons. But what makes Hair Mechanix the best place to get a beard trim in Michigan, Florida, and Pennsylvania?
Different Types of Beards
There are many variations and types of beards. Depending on the person, a beard can be based on preference or facial structure. One of the classic beards that cause kids to scream 'prickly' is the stubble beard. It can be a charming and class beard type for men of all ages. You also have the full beard, which is the most iconic type of beard. Mustache and all, a full beard is what most people think about.
After that, you can get fancy with your beards. The Goatee, Ducktail, Anchor, and the Van Dyke are just a few of the many options that you have when choosing your beard.  However, caring for your beard is important. That includes getting a beard trim from time to time.
Best Beard for Your Face Shape
Your face shape is always a factor when it comes to your haircut. Without a doubt, there is an optimal haircut for your face. This also applies to beards. The structure of your face can tell you what type of beard would suit you best! So, from all the types of beards, which style fits your face?
Oval-Shape Face
Most versatile shape in facial shape. The majority of beards will look amazing on you. Though, you need to make sure you show off your cheekbones.
Round-Shape Face
For this face type, the goal is to have a beard that makes your face longer. That means you should be going for beards with shorter sides and length on the bottom. You could pull off a Full Beard, Ducktail, and Extended Goatee.
Long-Shape Face
A beard that is short and close to the face is the ideal beard for you. You should be looking at a stubble-like beard to bring out the full potential of your facial hair.
Square-Shape Face
A square-shaped face needs 2 things in facial hair. Facial hair that compliments your jawline and cheekbones. Just like a long-shape face, you need something short and close. You have some versatility with a square shape. You could with designer stubble or a goatee that will catch everyone's eye.
The Importance of Beard Trimming
Although the point of a beard is to grow it out, trimming is an important step of progress. It might seem simple to grow a beard but it is a tedious journey. For a successful and luscious beard, you need to be able to increase your beard length. Around 2-3 months into your beard growing journey, you will need to trim it. It seems counterproductive. Yet, trimming will allow your beard to be healthy-looking as it grows.
However, it's not taking centimeters or inches off your beard. Just a few cuts with grooming scissors to let your beard grow evenly. Taking off split ends can increase the growing process. There are a lot of techniques that can help prevent split ends, however, trimming is the best to increase the growing process. Trimming is important, but it needs to be done properly. You need the best beard trim for the best results. And Hair Mechanix can help you!
Trimming Tips
Sometimes, you might have to do some beard maintenance at home. If it comes to that, you need to know the basics of trimming and caring for your beard. Like your hair, you need to wash and comb out your beard before you start the trimming process. After that, it is time to prepare for the trim. At this point, you will need to gather your equipment. This includes a towel, comb, scissors, clippers, products, and your mirror.
After you got your supplies it is time to trim. You will use your clippers and scissors to sculpt your beard. This part is challenging. Unless you are skilled or a barber, you might end up cutting off more than you want. In addition, you have to clean up the aftermath. There is no way your roommates or girlfriend want to see your beard hair. For the best beard trim, you should stop by your local Hair Mechanix.
Best Beard Trim at Hair Mechanix
At Hair Mechanix, our hairstylist provides the best, high-quality hair maintenance services around. This includes face maintenance! If you looking for fixing the basics, neck shave, beard trim, or any other beard needs, Hair Mechanix has you covered! You can enjoy a variety of named services like The Clean Up, Beardtopia, and so much more! Without a doubt, you will leave with the best beard trim of your life.
However, don't forget about Hair Mechanix's other services! Hair Mechanix has everything you need to look your best! You can get a fresh new haircut and color to change your look. You also can clean your eyebrows, ears, and nose with a waxing treatment. After that, you can enjoy a facial or scalp massage to feel pampered. If you live downriver, you should check out Southgate! If you live west, then stop by Howell, the newest Hair Mechanix location.  So, make an appointment today at your local Hair Mechanix. To get excellent service from a haircut place near you!
When all this craziness from the shutdown finally passes, you will most likely need a haircut! When the quarantine is over, make sure you head to your local Hair Mechanix! See you soon!
Newest Trend Designer Beard for 2020!
Move over 2019 man beards, 2020 is here and ready to get you looking hot for all those beard lovers! Over the last few years, we've seen the beard trend come back in full force. For some guys this has been wonderful, for others, it's time to clean it up.
Enter designer beards. These beard/stubble styles are trimmed up just enough that you get that rugged look combined with a business professional demeanor. These beards are short, close to the face, and are designed to complement your facial structure. No more having to worry about getting food in your beard, or looking like you've been living in the woods. Here are a few images of some Designer beards we love!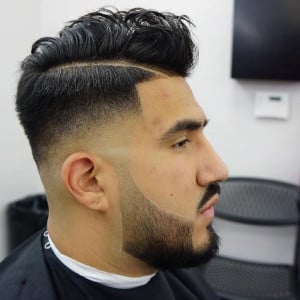 As you can see with this design, they added in a fade that gives them the detached beard look, while still having those sharp angles that we just can't get enough of.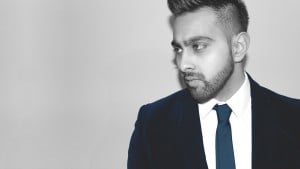 As you can see on this design, less is more. Just a little bit of scruff, but not enough to look unprofessional. Very nice.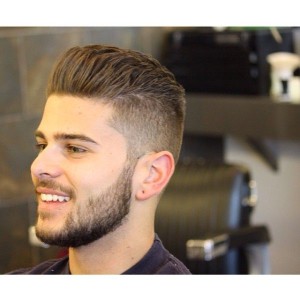 These beards can really take your style to the next level and will have you staying ahead of the style curve.
Come into Hair Mechanix and let us trim up your beard scruff. Let our team of stylists gets you looking like a million bucks. If you want to try out this look we can help. We allow for walk-ins or you can make an appointment!
We offer these beard trim and shave services for Men:
Beardtopia – $16
Cut or Trim, Liquid Sand Exfoliating Cream, Rejuvenating Facial Cream & An Essential Beard Oil Massaging Rub.
Beard Trim – $10 and up
Add $5 For a Straight Razor Line Up.
Call and book your appointment today! Walk-ins are always welcome as well! Check out our Locations and see which one is closest to you!