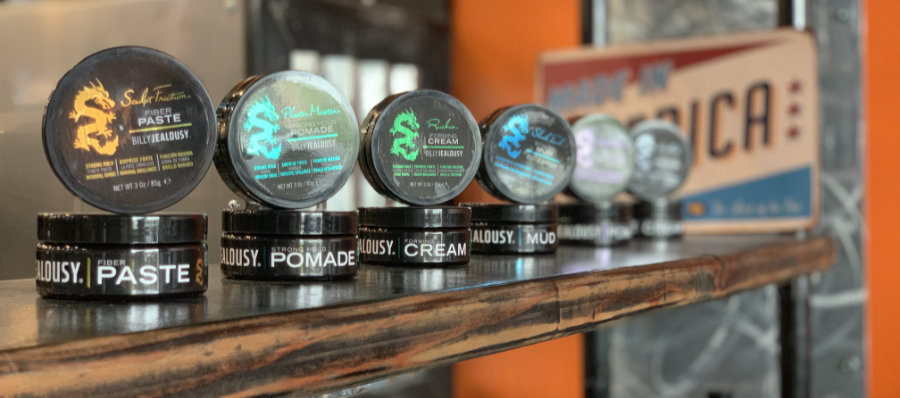 When it comes to looking good this holiday season, you should visit the stylists at your local Hair Mechanix. Our friendly stylist can help you find the style that looks best for you. In addition, why you are there make sure to pick up your favorite hair care products to help maintain your look. From pomade to gel we have everything you need to keep you looking great. Also, our products also make great holiday gifts as well!
Hair Care Products – Billy Jealousy
Hair Mechanix now carries the award-winning Billy Jealousy Men's Grooming products. Billy Jealousy has a full line up of hair care products such as paste, pomade, cream, beard oils, and many others. Founded in 2004, these products have been awarded by over 20 magazines for superior grooming products. Proven to help skin and hair health, you can not go wrong with these products. Ask you Hair Mechanix stylist for all the details on Billy Jealousy products.
American Crew
In addition to Billy Jealousy, we also carry a full line up of products from American Crew.  For over 20 years, American Crew has been the preferred salon brand of men's hair care products.  Also, at Hair Mechanix, we carry shampoo, conditioner, gel, pomade, and many other American Crew products. Once you have tried American Crew you will understand why it is one of the best brands around.
Treat Your Beard For Movember
Are you familiar with Movember? Movember is a movement for men that helps promote awareness for men's health. Furthermore, it brings awareness to things such as prostate cancer, testicular cancer, mental health, and suicide prevention. To help participate you can donate and grow those beautiful mustaches and beards out for the whole month of November. Of course, while you are trying to maintain your facial hair, make sure to pick up Hair Mechanix own beard oil. It helps with the health of your beard.
This holiday season visit us at Hair Mechanix and pick up a few products for you and your loved ones!
Our Products
Tips From The Professionals!
We here at Hair Mechanix want you to be in on the loop on the coolest and newest hairstyles and products that help you get them. We found a few of the hottest styles out there right now and how you can get them.
Styling Tips for The "Classic" Slicked Back Look
For this Hairstyle we recommend using Redken's Maneuver Wax. This product gives you a pliable hold with a natural finish but still leaves you with a moldable texture.
You would take a small amount of product (about the size of a nickel) and evenly spread in your hands.
Work the product into your hair with your hands. Focusing on the strands on the outside and sides of your head for the best results. For the finishing look take a comb and either focus on your part, or slick it straight back for a more classic "Mad Men" look
TIP: For stubborn hair that wont get the body you need it to, try using a round brush and hair dryer to give you more volume. Simply blow dry your hair in the opposite direction it grows then apply product.
Styling Tips for Tousled "Fresh off the Beach" Look – 
When your hair is wet, take and use a blow dryer and a round brush to dry and volumes your hair. When your hair is dry, take a small amount of Redken Firm Grasp Texturizing Hair Clay and run it through your hair to finish this "Fresh off the Beach" look.
Tip: When getting product from a container try inserting your finger and flicking out to remove the product as opposed to digging in. This will keep the prod it out of your fingernails.
Clean Up Your Beard Or Mustache 
If you want your beard to have a clean put together look or style you can always use a little bit of Redken Work Hard Molding Hair Paste.  You can use this product to create a clean strong hold for your beard's style.
Some times all you really need though is a good cut, which we can do! Call your local Hair Mechanix today and book your appointment or visit one of our great locations!