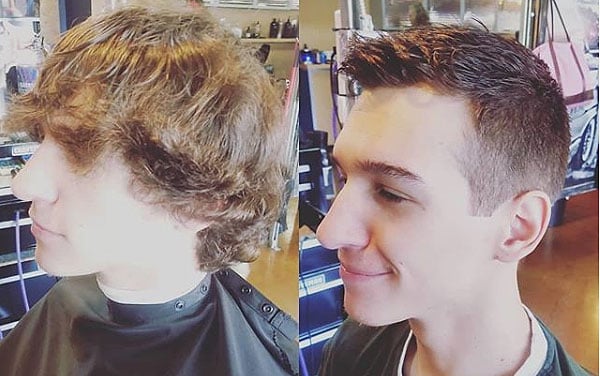 With summer quickly approaching that means prom and graduation is arriving quickly as well. All those pictures that you are going to have to take, and you want to look your best. Reserving limos and tuxedos are always on the list, but one you should not forget is to get that new haircut. When it comes to men's haircuts in Metro Detroit, your first choice is Hair Mechanix!
Graduation, Prom, and Parties
No matter if you are graduating in Westland, Brighton, Livonia, Waterford, Southgate, Auburn Hills, Monroe, Warren, or Troy we have you covered.  This time of year can be hectic to graduating seniors with so many things to do. The good news is at Hair Mechanix you can walk right in without an appointment. Also, you can make an appointment if you are tight on time. Once you get here, sit back relax and enjoy your time at Hair Mechanics.
Our experienced barbers and stylists can give you the new look that best fits you. Along with a fresh new haircut, there is a variety of other grooming services you can choose from as well. Has your beard got a little out of control? You can get a beard or goatee trim or have it completely shaved with a straight razor. Do you have a little extra hair around ears, nose, or eyebrows? We can provide you with waxing services to clear out all those unwanted hairs.
Scalp Treatments and Coloring
Are you stressed from all the pressure of graduating? Come in and enjoy a relaxing scalp massage for 5 or 10 minutes. It will give you the relaxation you so deserve. In addition, if you are tired of the same old color of your hair, we can give you the new color you always wanted. Want to be blonde, redhead, or how about black hair? We provide coloring services for that look you want to remember.
This is the first major step before seniors head out to college or join the workforce so make sure to get your haircut today.  Finally, visit us today so you can look your best for graduation!
Posted In: Graduation Haircut, Guys Haircut, Hair Styles