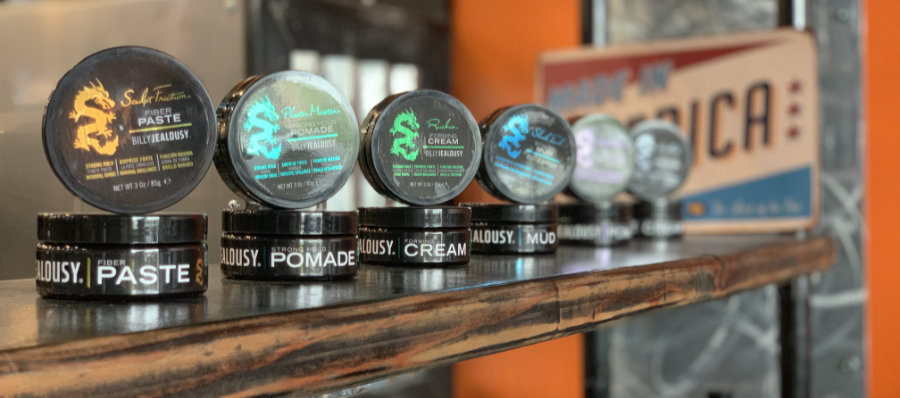 When it comes to looking good this holiday season, you should visit the stylists at your local Hair Mechanix. Our friendly stylist can help you find the style that looks best for you. In addition, why you are there make sure to pick up your favorite hair care products to help maintain your look. From pomade to gel we have everything you need to keep you looking great. Also, our products also make great holiday gifts as well!
Hair Care Products – Billy Jealousy
Hair Mechanix now carries the award-winning Billy Jealousy Men's Grooming products. Billy Jealousy has a full line up of hair care products such as paste, pomade, cream, beard oils, and many others. Founded in 2004, these products have been awarded by over 20 magazines for superior grooming products. Proven to help skin and hair health, you can not go wrong with these products. Ask you Hair Mechanix stylist for all the details on Billy Jealousy products.
American Crew
In addition to Billy Jealousy, we also carry a full line up of products from American Crew.  For over 20 years, American Crew has been the preferred salon brand of men's hair care products.  Also, at Hair Mechanix, we carry shampoo, conditioner, gel, pomade, and many other American Crew products. Once you have tried American Crew you will understand why it is one of the best brands around.
Treat Your Beard For Movember
Are you familiar with Movember? Movember is a movement for men that helps promote awareness for men's health. Furthermore, it brings awareness to things such as prostate cancer, testicular cancer, mental health, and suicide prevention. To help participate you can donate and grow those beautiful mustaches and beards out for the whole month of November. Of course, while you are trying to maintain your facial hair, make sure to pick up Hair Mechanix own beard oil. It helps with the health of your beard.
This holiday season visit us at Hair Mechanix and pick up a few products for you and your loved ones!
Our Products