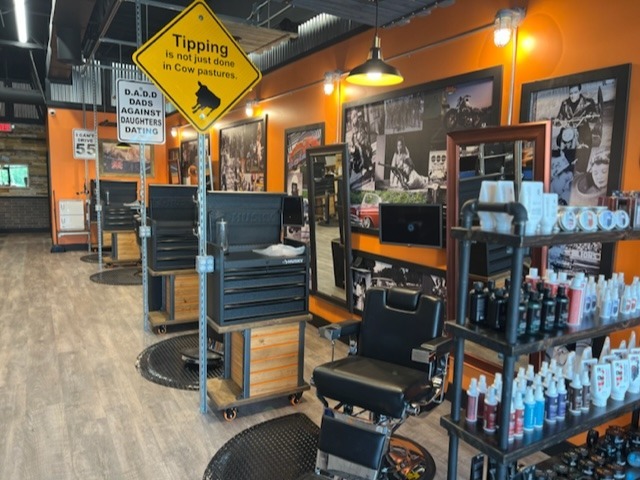 Hair Mechanix in Clinton Township is Now Open!
If you have been waiting for a new Hair Mechanix location to open up near you and you live in Clinton Township, your wish has been granted! Not familiar with Hair Mechanix? Then map our location and head on over! The decor is awesome and our professional stylist are top notch! You can now book online or download our app and make an appointment there. We accept walk-ins and you can look forward to a free beverage at reception.
Neck shave and hot towel treatment included with every haircut!
About the Clinton Township Location
The Clinton Township location is right nearby Hall Road and I-59, allowing you to get to and leave your appointment with ease. Before your visit, you can take a stop at the Starbucks nearby! Nothing is better than having a nice drink of coffee or even a bite of a cake pop as you get your haircut. In addition to gourmet coffee by this Hair Mechanix, there are plenty of restaurants and more!
Across the road, you can visit some bars & grills and other restaurants like Bob Evens or Culver. In fact, there is Panera Bread right next door! You can also visit many shopping centers, including Walmart! Looking for some great entertainment and fun? Hair Mechanix barbershop is just down the road from C.J. Barrymores's entertainment complex. So, get a great haircut, shave, beard trim or any of our professional barber and salon services, then enjoy the rest of your day or evening all around us!
Hair Mechanix of Clinton Township
Hair Mechanix should always be your number one stop for all your hair care needs. Our stores offer a variety of high-quality services to help you look your best! Each of the stores has superstar stylists that have years of experience cutting hair. Whether you are  a man or boy, getting a simple trim or looking for a new haircut for the school year, our stylists will do the job with precision and grace!