The Contest Has Ended Congratulations to N. Emerson The Contest Winner!
---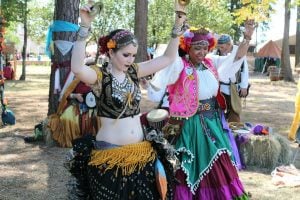 The Renaissance Fair is an outdoor reenactment of life in the 16th century. Its purpose is to provide an accurate historical setting for the public's amusement. 
Here at Hair Mechanix, we fully support Michigan's Annual Renaissance Festival which is why we are giving away the free tickets. We love the activities, costumes, and food. With amusing acts, medieval clothing shopping, eating aberrant foods, and more, there's never a dull moment. But what else is there?


What To Do At The Michigan Renaissance Festival?
Shopping
You and your family can shop the unique shops for handmade jewelry, matching fantasy apparel, and souvenirs! Want to transport yourself back to the 16th century? Visit the leather-works shop for all of your leather goods needs or the many stands littering the fair for cool knick-knacks.
Food
The Festival is home to the weirdest foods. For the adventurous eaters, there are scotch eggs, spicy maple bacon on a stick, and more. For the more cautious eaters, you have your turkey drumsticks, cheesecake on a stick, and more neutral foods. And if you want to enjoy the festival-like kings, register for the Feast of Fantasy to enjoy regal six-course meal and a good time. 
Activities
Along with food and shopping options, there are also fun activities. People from all over the nation visit the Michigan Renaissance Festival to attend the masquerade ball and to watch horse jousting events. Some more fun comes in the form of contests. The dog dress up contests along with the archery contests allow for a fun and competitive time. Or, you can walk through the Hawk Walk and drink all you can in the Pig & Swig.
The festival is active on weekends and Labor Day starting on August 17th through September 29th from 10 AM to 7 PM. Also, it is located at 12600 Dixie Highway in Holly, MI.
Hair Mechanix
You should always look your best when going with your friends or family to the Renaissance Festival. And what better way to do so than to get a haircut at your local Hair Mechanix? Come in before you go to the festival so you can look good for all of the pictures you are sure to take there. Our stylists will fix you up with a beard trim and haircut.
If you are interested in winning four free tickets, enter our contest! Just fill out this form and we will contact you if you win! If you have any questions or concerns, please contact us today! We can't wait to hear from you!