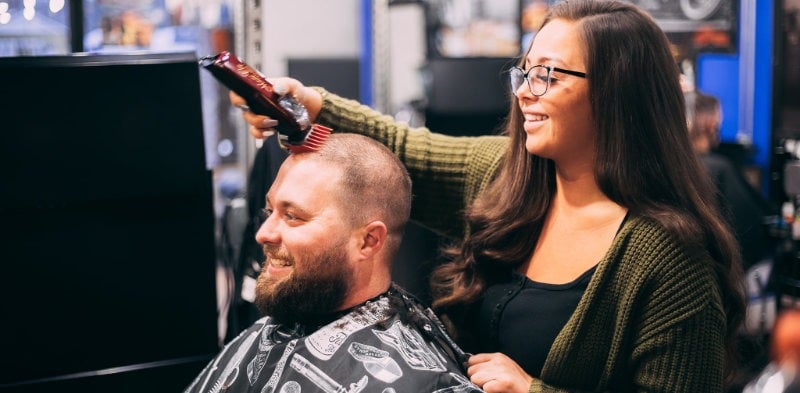 When it comes to best the Detroit area barber or hair salon, the clear choice is Hair Mechanix! Now we do not look like your old school barbershop, but we provide great service that is unmatched. Also, we take a good time feel of an old barbershop and modernize it to today's standards.  Located all over the Metro Detroit area, there is always a Hair Mechanix near you!
Detroit Area Barber Near Me
At Hair Mechanix, we have over 10 locations to choose from in Michigan. In addition, we are always expanding and adding new locations.  If you are ever in the Jacksonville, Florida area, make sure to check out our locations there as well. What really sets Hair Mechanix apart from other barbershops in the atmosphere and service. When you walk through the door at a Hair Mechanix you can immediately tell you are at a place designed for men.
From the fun decor to the multiple TVs playing your favorite sports, it is a great place to hang on a regular basis. From toolboxes to comfortable seating, Hair Mechanix is one of the best places for a men's haircut in town. Now a barbershop is only as good as their barbers. At Hair Mechanix, we hire the best barbers and stylists in the area. Our talented stylists can help you find the exact look that best fits your hair type.
From thinning hair to thick full hair, our stylists can recommend so of the best cuts for you.  Of course, we also offer a large selection of services to choose from. From waxing to coloring, we have any service you need. As an added bonus, we offer shampoo, hot towel massage, and a neck shave with every men's haircut. Finally, visit your local Detroit Area Barber today, walk in, or make an appointment it is up to you!

Posted In: Barber News
Tags: Barbershop, mens hair salon