Often times, we see popular hairstyles worn by male athletes. Depending on the sport being played, there are many different sports haircuts preferred by famous male stars. Sports haircuts are becoming very trendy in today's society. Not only are they cool looking and versatile, they are also really easy to maintain and manage.
NBA Sports Haircuts
Some of the best men sports cuts are worn by NBA players. Since a hat or helmet is not required for this type of sport, a good head of hair is always nice to look at and appreciate. Keeping your hair groomed really stands out. A few athletic haircuts worn by our NBA players are:
Undercut
Shag
Slickback
Temple Fade Taper
Tapered Frohawk
Messy Crop
Shaved Head
Basketball player, Gordon Hayward is known for wearing his hair in a trendy slickback with gel. Steph Curry's famous hairstyle is his temple fade taper. This classic hairstyle is very low maintenance, shows off all dimensions of the haircut, and only needs to be cut/tapered every few weeks. The undercut hairstyle, worn by Jeremy Lin, adds volume to the modern looking hairstyle. Many NBA stars like wearing this hairstyle because it's simple and gives off a dapper look. These type of haircuts have become very popular in the basketball world over the years.
NFL Sports Haircuts
With the new NFL season coming pretty soon, why not start up the season with a fashionable look? Athletes such as Odell Beckham Jr., Russell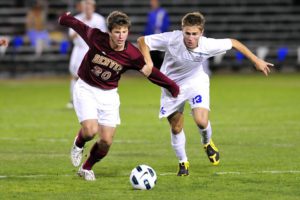 Wilson, Tom Brady, and Emmanuel Sanders all have different sports haircuts that show off their style and personality. Some popular and stylish hairstyles include:
Classic Short Cropped Fauxhawk
Low-Mid Tapered Fade
Classic Short Crop (with the sides shaved)
Soccer Sports Haircuts
Soccer athletes are known for their crazy and creative hairstyles. The most famous styles worn by soccer players are the Olivier Giroud, Cristiano Ronaldo, and Panagiotis Kone haircut.
All athletes wear different types of sports haircuts to express themselves. Depending on the sport you play will determine which haircut you'd prefer. Some are styled to help keep your hair follicles out of your face, while others are designed as a form of protection. Whatever the reason may be, each sports haircut can be personalized just for you.
Get a Sports Haircut at Hair MX!
Looking for a particular sports or athletic hairstyle?  At Hair MX, we do it all. So do you have a favorite player, like their look and want a cut like them? You got it! Come visit any one of our locations, call or schedule an appointment online. We'll give you that perfect sports haircut!