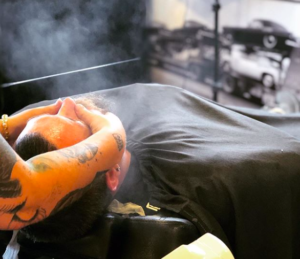 Are you looking to treat yourself this holiday season? Come into your local Hair Mechanix for a free shampoo, neck shave, and hot towel massage! Every cut comes with these perks at no extra cost! 
How do we cut your hair?
First, before cutting your hair, we can give you free shampoo to get your hair clean and soft. 
Second, we will cut and trim your hair to perfection. Our stylists will cut your hair in the style you want so you can look the best that you can! And you have the option of adding a free neck shave as well! Are you a new client?
After your hair is cut, we will move onto your neck. You have the option to receive a neck shave. Or upgrade to a cut or trim with liquid sand exfoliating cream, rejuvenating facial cream, and a beard oil massaging rub for an upcharge.
Free Shampoo and Other Perks
After your cut and beard trim, you can get a free hot towel massage! Sit back and relax at your local Hair Mechanix with a relaxing and refreshing neck massage! We give you the option of a relaxing hot towel or a revitalizing cold towel. The towels are infused with 100% organic tea tree oil and placed on your face. The hot towel will help to open your pores and relax your muscles while also acting as an antiseptic!
We also offer facial waxing services and coloring services. So if you would like to wax your eyebrows, ears, or center brow, we've got you covered! And we can color your hair too! Need some shaving tips?
The end of the year is the time to enjoy yourself. So, visit your local Hair Mechanix for a relaxing afternoon. We have locations in Auburn Hills, Brighton, Livonia, Monroe, Southgate, Troy, Warren, Waterford, and Westland. We can't wait to see you! Walk-in or make an appointment today!