Are you looking to create a new look for the summer; a haircut that is cool, light, and able to stand the Michigan summer heat?
Come to Hair Mechanix in Waterford! Enjoy spending the day touring the beautiful city of Waterford with family or friends getting coffee, ice cream, or stopping for lunch at one of the surrounding restaurants before getting a new stylish haircut to end the perfect outing!
Men's Haircuts Waterford
Hair Mechanix in Waterford is the best men's barbershop to go to for a trim, wax, haircut, and even scalp treatments. Simply the best place for haircut's Waterford.
Not only are we in a prime, safe location, but the stylists are engaging, eager to please, familiar with the current haircuts, and can predict what the popular styles will be in the future. Only stylists at Hair Mechanix can fulfill your vision of the perfect hairdo, be it a fade, classic cut, buzz cut, head shave, or Mohawk, our stylists can do it all, and all at affordable prices!
If you want a pleasant, memorable experience, come over to Hair Mechanix in Waterford! We take walk-ins or you can contact us here to set an appointment. We look forward to seeing you! Furthermore, if you aren't close to our Waterford location, come to see us at one of our other local locations. We have locations in Livonia, Westland, Monroe, Tory, Auburn Hills, Waterford, Warren, and Southgate.
Don't forget about our daily deals! On Sundays we have Sunday Sonday, with the purchase of a Father's haircut, Son's haircut is half off. Active Military and Veterans receive $3.00 off their haircut Mondays through Wednesdays. Between 10 AM and 1 PM on Mondays through Thursdays, we have Senior Mornings. This is when Senior Citizens can receive $3.00 off of their haircuts. Also every day we have the Buddy Pass. Bring in a buddy, and if one or both of you are new to Hair Mechanix, your cut is free!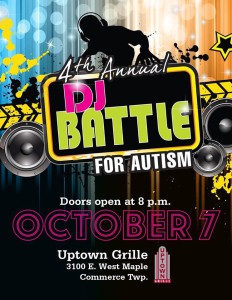 Join Hair Mechanix Guys Haircuts while we support our friends from Truth Detroit in raising awareness and donations for Haileys Heroes in the Autism Speaks Walk.
'HAILEY'S HEROES' AND 'AUTISM SPEAKS' ARE GROUPS THAT RAISE AWARENESS AND MONEY FOR AUTISM RESEARCH, TREATMENT, CAUSES AND CURES.
Hair Mechanix is privileged to be a sponsor for Hailey's Heroes 4th Annual DJ Battle for Autism! Stop into any of our Hair Mechanix Guys Haircuts locations in Westland, Waterford, Madison Heights, Southgate with a location opening in Livonia Michigan THIS FALL! Whether your stopping in for a haircut or just want to make a donation, ask one of our professional mens hairstylists to make a donation and we will put your name on a Autism Puzzle Piece while we hang them around the shop to encourage others to donate.
The event will be hosted by: Mike Londeau and Patrick Tullio
Judges:
Brian Dj Godfather Jeffries, Dj Ryan Richards (98.7 Amp), Chuck Dj Chuck D Miller, Dj Mikey B, and Dwight Dj Hit Johnson
Detroit DJ Line up: Dj Snook, Dj Row, Dj Johnny Storm, Dj Kee Flo, Dj Knowledge, Dj Troublemaker, Dj Mike Shadow, Dj Cataclysmic, Dj DeTrapt, Dj Black Atom, Dj Eric Allen, Dj PreZident, Dj Quest Jibraail, Dj Matt Aubrey, Dj Zig Zag, Dj William Novah
Recognizing other Sponsors; Red bull, Embarco, PPA, Uptown Grille, Dj Joey A, Deluxe Tanning Hair & Nails, TJ Monte Productions, Hot Spot Coffee.
There will be 50/50 and lots of Prizes to give away
21+ Proper Attire
$10 entry cover; with all donations going to benefit Hailey's Hearos In the Autsim Speaks Walk
**WE WILL BE TAKING DONATIONS AT ALL HAIR MECHANIX GUYS HAIRCUTS LOCATIONS UNTIL THE DAY OF THE EVENT OCTOBER 7TH**
Please join the Hair Mechanix girls on OCTOBER 7TH @ UPTOWN GRILL 3100 E West Maple Commerce, MI
Hair Mechanix is committed to providing the best mens haircuts and other male grooming services. Along with our passion for our clients and the talent we posses, we like to help other businesses, groups, charities that are dear to us and the people in our lives HELP US, HELP THIS group raise money and awareness for Autism!