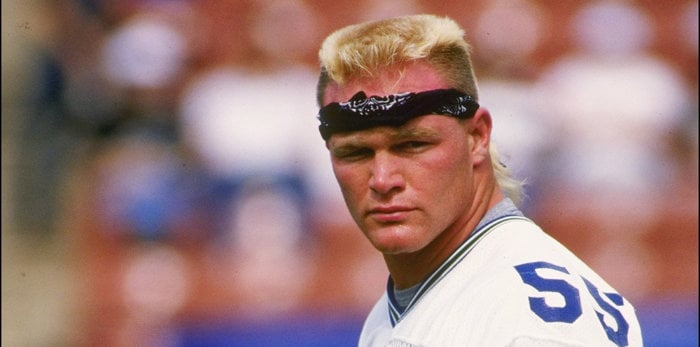 This year the NFL is celebrating its 100th year. Throughout those 100 years, there have been some memorable football hairstyles.  Today, we here at Hair Mechanix are going to take a look at some of those unique looks that maybe just football players can pull off.
Memorable Football Hairstyles: Brian Bosworth
Drafted out of Oaklahoma to the Seattle Seahawks in 1987, Brian Bosworth played linebacker and was a larger than life character. But his potential attitude and crazy hairstyle made him a popular icon in the 80s.  Based on his looks alone, it scored him a few movie roles one of the famous ones is Stone Cold.  Also, in the 80s a blonde mohawk was a unique look and his style would vary from a mohawk to a mullet throughout the years.
Finally, today Bosworth can be seen at Oaklahoma games and on Dr. Pepper commercials all over the country.
Clay Mathews III
If the long-haired Viking look is more your thing, then Clay Mathews has the hairstyle for you. Drafted by the Green Bay Packer sin 2009, the outside linebacker has set a hair trend a lot of defensive linemen have today. In addition, Clay has brothers and a father that has played in the NFL. Drafted from USC he looks more like a Nordic Viking than a California kid.
Do you like free services?
Troy Polamalu
Also from USC (I guess they really like long hair there), Troy Polamalu played safety for the Pittsburgh Steelers for 11 years. Troy has two Superbowl rings, 8 Pro Bowls, and numerous defensive awards throughout his career. But the one thing everyone always remembers is his long curly black hair hanging out the back of his helmet.
Also, his hair became so famous it lead to him getting a contract with Head and Shoulders. Polamalu is retired now, but in his day he was considered one of the best safeties to ever play the game.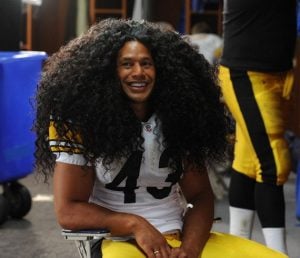 Hairstyles For All Guys
Of course, this is just a look at some of the crazy hairstyles that have appeared in the NFL throughout the years. If you are looking for a new look and a great time while getting your haircut then visit Hair Mechanix. We have multiple locations throughout the state and you can walk in anytime!