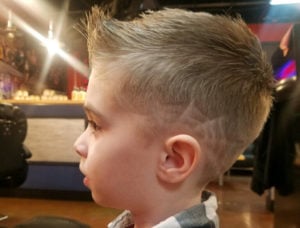 If you are in the Shelby Township area, make sure to visit our newest Shelby location on 23 Mile Road! When it comes to haircuts, the best option around is Hair Mechanix. Also, the friendly stylist at the Shelby Hair Mechanix can help you determine which style is best for you. In addition to haircuts, there is a wide variety of services to choose from as well.
Shelby Location Services
In addition to a haircut, you also receive a free shampoo, neck shave, and a hot towel massage. Those are on the house with a purchase of a hair cut. There are other services to choose from as well. Services such as hair coloring, straight razor shave, beard trim, waxing services, and also scalp treatments.  You could pamper yourself all day.
Our newly opened Shelby location is at 12405 23 Mile Road, Shelby Township.  You can walk-in or book an appointment, either way, our stylist will be glad to see you. Founded in 1827, Shelby Township is a great place to live and raise a family. Hair Mechanix is very honored to be a part of this great town. Also, make sure to stop by and bring the kids we cut hair for all ages.
If you are looking for a stylist that can give you the best look, visit Sara and the rest of the stylist at Hair Mechanix. In addition, make sure to enjoy the welcoming atmosphere of our salon. With large comfortable chairs to great decor, you will feel right at home. Our locations have an inviting men's look and beautiful stylists. Also, we are open  Monday through Thursday 10 am – 8 pm, Friday 9 am – 8 pm, Saturday 9 am – 5 pm and Sunday 9 am – 3 pm.
Finally, give us a call today at 586.488.3750 or visit us today for your next haircut!
Posted In: Locations, Mens Hair Cuts
Tags: Haircuts, Men's Haircuts, Shelby