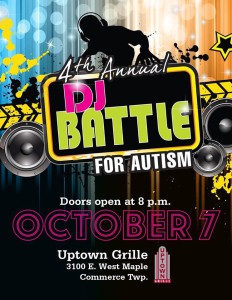 Join Hair Mechanix Guys Haircuts while we support our friends from Truth Detroit in raising awareness and donations for Haileys Heroes in the Autism Speaks Walk.
'HAILEY'S HEROES' AND 'AUTISM SPEAKS' ARE GROUPS THAT RAISE AWARENESS AND MONEY FOR AUTISM RESEARCH, TREATMENT, CAUSES AND CURES.
Hair Mechanix is privileged to be a sponsor for Hailey's Heroes 4th Annual DJ Battle for Autism! Stop into any of our Hair Mechanix Guys Haircuts locations in Westland, Waterford, Madison Heights, Southgate with a location opening in Livonia Michigan THIS FALL! Whether your stopping in for a haircut or just want to make a donation, ask one of our professional mens hairstylists to make a donation and we will put your name on a Autism Puzzle Piece while we hang them around the shop to encourage others to donate.
The event will be hosted by: Mike Londeau and Patrick Tullio
Judges:
Brian Dj Godfather Jeffries, Dj Ryan Richards (98.7 Amp), Chuck Dj Chuck D Miller, Dj Mikey B, and Dwight Dj Hit Johnson
Detroit DJ Line up: Dj Snook, Dj Row, Dj Johnny Storm, Dj Kee Flo, Dj Knowledge, Dj Troublemaker, Dj Mike Shadow, Dj Cataclysmic, Dj DeTrapt, Dj Black Atom, Dj Eric Allen, Dj PreZident, Dj Quest Jibraail, Dj Matt Aubrey, Dj Zig Zag, Dj William Novah
Recognizing other Sponsors; Red bull, Embarco, PPA, Uptown Grille, Dj Joey A, Deluxe Tanning Hair & Nails, TJ Monte Productions, Hot Spot Coffee.
There will be 50/50 and lots of Prizes to give away
21+ Proper Attire
$10 entry cover; with all donations going to benefit Hailey's Hearos In the Autsim Speaks Walk
**WE WILL BE TAKING DONATIONS AT ALL HAIR MECHANIX GUYS HAIRCUTS LOCATIONS UNTIL THE DAY OF THE EVENT OCTOBER 7TH**
Please join the Hair Mechanix girls on OCTOBER 7TH @ UPTOWN GRILL 3100 E West Maple Commerce, MI
Hair Mechanix is committed to providing the best mens haircuts and other male grooming services. Along with our passion for our clients and the talent we posses, we like to help other businesses, groups, charities that are dear to us and the people in our lives HELP US, HELP THIS group raise money and awareness for Autism!
Hair Mechanix has started its Tots for Tots Fundraising this holiday. We are proud to have partnered with Truth Detroit's 4th Annual Toys for Tots Drive.  Through the Holidays all four of our Hair Mechanix locations will be donation and toy drop off sites. Come in to our Westland location on Ford Rd west of Newburg to drop off a new unused, unwrapped toy for Toys for Tots this Christmas. Our Waterford location on Highland Rd. just west of Airport Rd. will also have a toy box for you to donate. Join us at Truth Detroit's Annual Toys for Tots Drive Tuesday December 3rd at Uptown Grill in Commerce Twp. Where we will have 16 of Detroit Michigan's Top DJ's spinning, entry will be one unwrapped toy, there will be 50/50 and lots of prizes to give away. Along with a table with the Hair Mechanix Girls! Come, donate to a great charity and have a blast at this Toy Drive with us!
Hair Mechanix will also be hosting a separate Toy Drive Sunday November 24th during the Royal Oak Thanksgiving Day Parade. You will find us on the corner of 6th and S. Washington Ave. in the space next to Skyward Group . Our nearest location in Madison Heights on 13 Mile Rd just west of John R. will be hosting this event along with our newest location in Southgate on Eureka Rd. just north of Allen along with Hair Mechanix Girls from our Westland and Waterford locations! Dont miss it we will be selling American Crew and Redken for Men Products with a precentage of the sales going to Toys for Tots, we will also be selling individually wrapped made for Hair Mechanix cookies with proceeds going to Toys for Tots, people will be able to drop off unwrapped toys in our toy box along with purchasing paper trains to write your name on for donations minimum $1.00. We didn't forget the fun stuff! We will be having a temporary tattoo station, paper hand turkey making, hair curling and updos for girls along with colored hair spray and gel for boys. Beverages to keep you warm and lots of fun! The parade starts at 2pm with a Santa Scamper at 1:30pm where famalies can walk/run/jog down S. Washington Ave. Following the parade is an early visit from Santa at Emagine Theatre from 3-5pm. This will be a fun filled, exciting Sunday for Hair Mechanix and Royal Oak! If you cannot join us, no worries all four of our locations are drop off sites through the holidays, pop in anytime to make your donation to Toys for Tots!