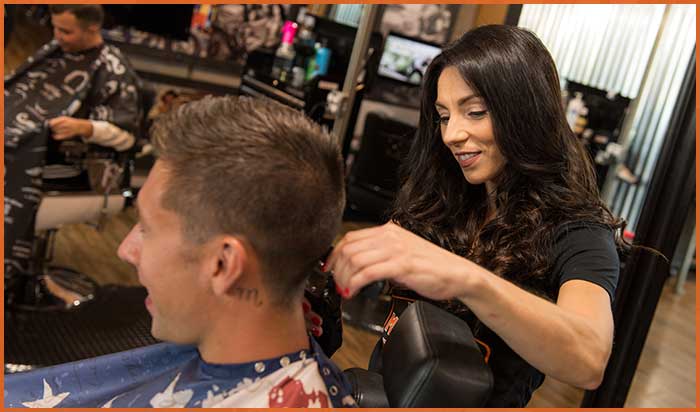 The Right Hair Salon for Men To Look Your Best
Need to look your best for an upcoming job interview, a hot date, or any other occasion? If you do, then you need to go to the newest local hair salon for men – Hair Mechanix®. We've heard all our lives that you only have one chance to make a great first impression. In those first few seconds, someone is looking you over and beginning to make some determinations regarding you.
One of the first things that they will take notice of is how well your hair is cut or styled. It really doesn't matter whether you have a full head of hair or if you may be balding or even if you shave your head. Whatever style you wear your hair, it must be neat and look professional when you're in an interview. If you're looking at that potential hot date, then she is definitely making determinations based on your grooming habits. In either situation, you will want to look your best to make the best first impression possible.
At Hair Mechanics of Westland, Michigan, our entire focus is to have you looking better when you leave than when you came to our door. During the time that you spend with us, we want you to feel relaxed and comfortable. You want to be in surroundings with all of your favorite things. Things like multiple televisions, great art on the walls of the things that appeal to you, like fast cars, hot women, and more. Of course, you would definitely prefer that a great looking female will cater to your needs for hair care and not some ruddy old barber. When she speaks, you want her to understand the difference between a touchdown, a home run, or a goal. You want her to be as enthusiastic as you about the big race event that is going on and more.
Michigan's Best Hair Salon
When you have your hair professionally styled by one of our great-looking female stylists, she won't be talking about her date and how bad it was or how she has to hurry home to fix dinner for her husband. She will be talking about last night's game, the game that is on one of our big screen TVs right now, or the one that is going on tonight. All the while you will be catered to and pampered while relaxing in our luxurious styling chairs. Of course, for all of this to happen, we may have to pry you from the seat you may have been waiting in for her to get to your needs.
Due to the way we take care of all of our clients, we can't rush things just to get to you. But, isn't that the reason you came here – for a little personal attention. A little relaxation? And, isn't that part of what it takes, besides an expert stylist to have you looking your best?
Give us the chance to make our first impression on you. You will be glad you did when you walk out of here looking and feeling great. Stop in any time or make an appointment with one of our fabulous Hair Mechanix® for men by calling 734-331-3900. We're open and waiting to serve you and even if you do wait a while, the time you spend here may be well worth it when you consider the potential gains by looking your best during that first impression.